Home

/

The catching of crayfish and or cape rock lobster for sport and recreation in South Africa - (2017 Dates)
How many Songs can you see in this artwork?
Jeanette du Toit
Wednesday, 11 October 2017
They Say there is more than 60 songs in this art work, how many can you find. Add your song names on our facebook page.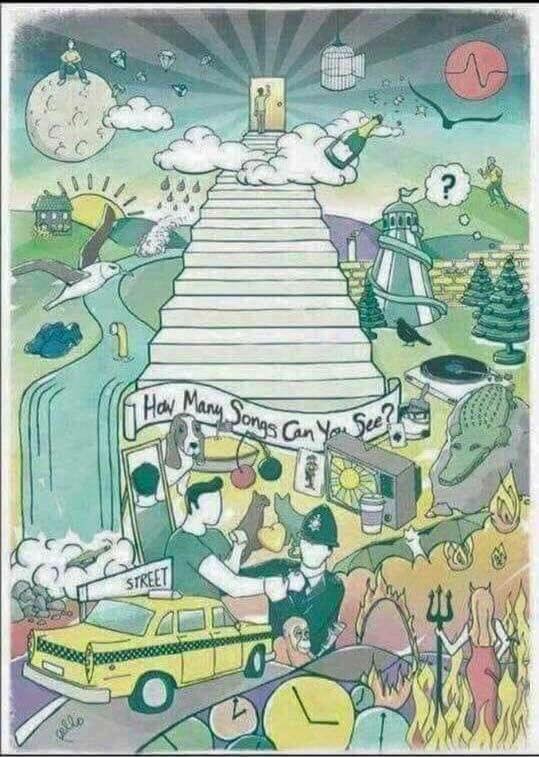 Thank you for this amazing artwork, I have no idea who done this
Afrikaans:
Ek is 'n eensame Krokkedil
Gee my vlerke
We will be adding the names as you find them:
Man on the Moon
Knocking on Heaven's Door
Yellow Submarine
The Seagull's Name was Nelson
Stairway to Heaven
On the road again
Bad Moon Rising
Whats new Pussycat
How much is that doggy in the window
Crocodile rock
Man in the mirror
Diamonds in the sky
It's Raining again
Another brick in the wall
Candle in the wind
Paint my love
Helter skelter
House of the rising sun
Love cats
Where the streets have no name
The turntable song or you spin me round
Cherry pie
Message in a bottle
Champaign shower
Lucy in the sky with Diamonds
Devil Woman
Sun always shines on TV
Bat out of hell
Big yellow Taxi
Ace of Spades
Time is on my side
Who let the dogs out
Fool on a hill
Campaigner supernova
Oh, Christmas tree
Paint it Black
Don't go chasing waterfalls
American Pie
Blackbird
Ring of fire
Livingstone Seagull
Fresh prince of bel air
Waterfalls
Blue Suede shoes
See you later alligator
Smoke on The Water
Clocks - Coldplay
Baker Street
Turn back the Hands of Time
The turntable song You
Spin me round
It never rains in California
Skyline pigeon
River Deep
Fly me to the moon
More questions than answers
Norwegian Wood (This Bird Has Flown)
I Fought the Law
Running up that hill
Time - Pink Floyd