Home

/

Southern Right Whales
Southern Right Whales
Author: Jeanette du Toit
Wednesday, 05 March 2014
Type:

Mammal

Diet:

Carnivore

Size:

50 ft (15.25 m)

Weight:

70 tons (63.5 m tons)

Group name:

Pod

Protection status:

Endangered

Females produce calves on average once every three years.
Southern Right calves drink almost 600 litres of milk per day while sucking.
Southern Rights were the first of the large whales to be protected in 1935.
Southern Rights dive to a maximum depth of about 300 meters.
Lifespan of the Southern Right Whale is estimated between 70 - 100 years
Page Views
2335
Southern Right Whales are easily distinguished from the other 2 baleen whales ( Humpback & Bryde's whales ) by three distinct characteristics: V-shaped blow, callosities on their heads and the lack of a dorsal fin on their broad backs. They visit the South African Coast from June- December.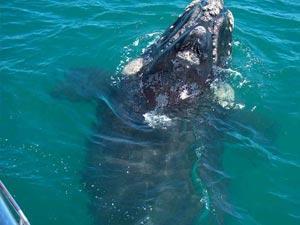 Southern Right Whales can reach a maximum length of 15-17 meters and can weigh 50 – 60 tons. They have broad black tails and squarish flippers.
The callosities on the jaws and are wart-like bumps are called a bonnet and are home to specialized whale lice and barnacles.
Mating groups are often associated with increased activity, with the female rolling over and slapping her flippers on the surface, trying to avoid the males. As many as 6-10 males might be trying to mate with one female.