Home

/

African Dusky Flycatcher
See what's showing at the Whale Coast Mall Theatre in Hermanus
Jeanette du Toit
Saturday, 16 December 2017
Prices:
Adult: R65
Kids: R55
Pensioners: R55
Jeandré Van Rensburg
Theatre Manager
062 640 0181
Page Views
31381

It's Movie Time! At the Whale Coast Mall in Hermanus. See what's showing and bring your friends and family along for a spot of big screen entertainment! Grab some popcorn and a seat!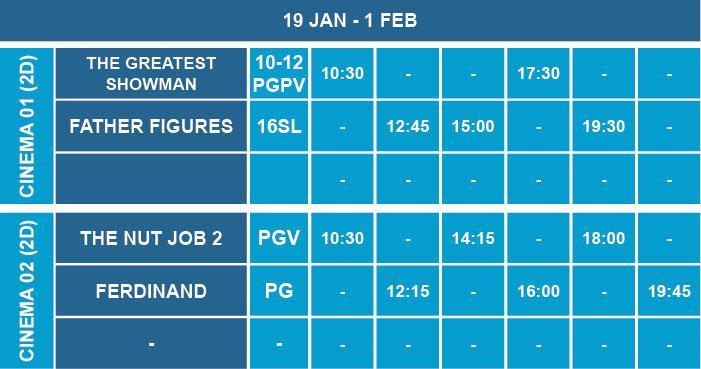 The Nut Job 2 - 2D - PGV After the highs of winning the world championships, the Bellas find themselves split apart and discovering there aren't job prospects for making music with your mouth. But when they get the chance to reunite for an overseas USO tour, this group of awesome nerds will come together to make some music, and some questionable decisions, one last time.

Ferdinand (PG ) is a young bull who escapes from a training camp in rural Spain after his father never returns from a showdown with a matador. Adopted by a girl who lives on a farm, Ferdinand's peaceful existence comes crashing down when the authorities return him to his former captors. With help from a wisecracking goat and three hedgehogs, the giant but gentle bovine must find a way to break free before he squares off against El Primero, the famous bullfighter who never loses.

The Greatest Showman - PG-PV 10-12.

Inspired by the imagination of P. T. Barnum, The Greatest Showman is an original musical that celebrates the birth of show business & tells of a visionary who rose from nothing to create a spectacle that became a worldwide sensation.

Jumanji: Welcome to the Jungle (PG13) . Four high school kids discover an old video game console and are drawn into the game's jungle setting, literally becoming the adult avatars they chose. What they discover is that you don't just play Jumanji - you must survive it. To beat the game and return to the real world, they'll have to go on the most dangerous adventure of their lives, discover what Alan Parrish left 20 years ago, and change the way they think about themselves - or they'll be stuck in the game forever.

Father Figures - 16 SL - Movie Info. Two brothers (Owen Wilson and Ed Helms) hit the road to find their long-lost dad after they learn that their mom has been lying to them about his death. This comedy was directed by Lawrence Sher. Father Figures is a fun, "let's forget about all my stress" kind of movie. Father Figures is a fun, "let's forget about all my stress" kind of movie.
Whale Coast Mall Office Number: 021 476 0994
Jeandré Van Rensburg - Theatre Manager - 062 640 0181
Prices:
Adult: R65
Kids: R55
Pensioners: R55
On a Tuesday there is a special rate: Adults @ R40 and Kiddies @ R35