VOLMOED HIKE – HEMEL EN AARDE VALLEY HERMANUS
Volmoed in the Hemel en Aarde Valley outside Hermanus offers a spectacularly scenic beautiful hiking trail. The turnoff is to the left in the bend after Camphill and Plaas Kombuis and before the ascent to La Vierge winery.
A small donation is payable upon which you receive a route map for the hike. A popular route is Way of the Cross Route to the top of the mountain.
The route splits at the pine trees for a less strenuous Waterfall Trail route back towards Volmoed. Cross over the lake bridge and followed the green feet along the edge of the lake until the Grotto area which looks just like a big open cave. Above the grotto area is a prayer hut.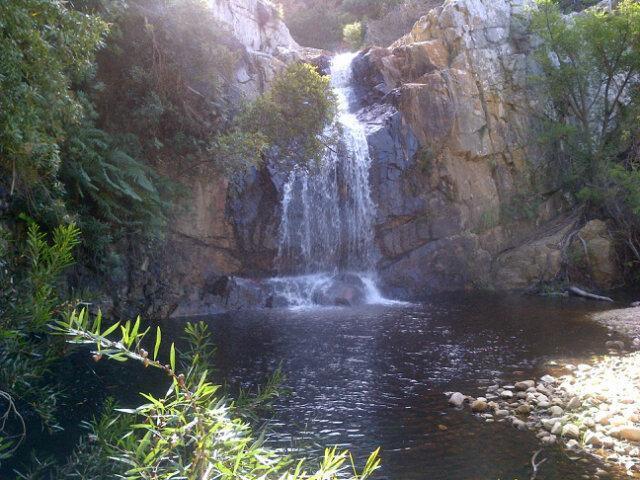 When crossing the river at the new bridge hikers can follow the path up and down along the river bend passing some falls on the way to the main waterfall. It is well worth the effort on reaching the waterfall situated in the ridge of the mountain. Take care when crossing the river to the waterfall. As the Onrust River makes its way from the heights of Babylon's Toring through De Bos Dam it tumbles down into this little valley with a waterfall and lovely natural rock pool, setting the scene of tranquillity and natural beauty that are the hallmarks of this Retreat and Conference Centre.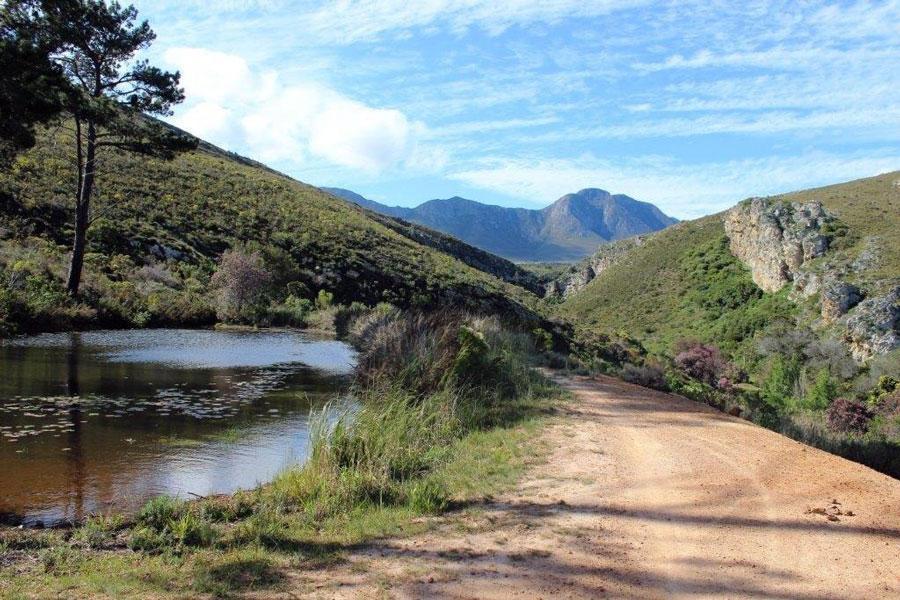 Take a breath, relax and indulge in the spectacular beauty of the waterfall and the area. Take the bridge across the lake for a full view of the flowering waterlilies before making your way back to the reception and parking area at Volmoed.

The area around Volmoed is beautiful, lush and green with self-catering chalets. It is a conference and wedding venue and has a chapel on the grounds. You may see some of the 70 species of birds which have been observed, so bring your binoculars. Numerous species of fynbos can be seen on the hillsides around the property.

ABOUT VOLMOED
It all started in the early eighties when Bernhard and Jane Turkstra felt called to establish a place that would minister to people who felt shattered by their life's experience. After sharing their vision and buoyed by the prayers of their supporters, they formed a Trust and moved onto the property in April 1986. The property has always been known as Volmoed (meaning full of courage and hope) and the previous owners asked that the name be kept – and what more appropriate name for a place of healing and wholeness! The valley first came to prominence as a place of healing during the 18th century when a leper colony was established here, and more recently when Camphill (next door) opened its doors where adults with intellectual disabilities enjoy the quality of life and meaningful work.