The Walker Bay Wine District's most important road, the Hemel-en-Aarde R320, aligns South Africa's premium cool climate wine region. It offers visitors to the area the opportunity to experience world-renowned Pinot Noir and Chardonnay, and also some of our country's best Sauvignon Blancs, Shiraz and innovative blends. The route unites the passion and reputation of many wineries, each producing small volumes of uncompromising premium quality wines. With vineyards deriving maximum benefit from the high elevation and cool sea breezes, this region has become well known for its unique terroir and maritime character which has resulted in countless local and international awards for its wines. Carefully and sustainably managed vineyards, unspoiled nature, the ocean and blue skies of Walker Bay guarantee visitors an unforgettable and memorable experience. For more information about the Hermanus Wine Route visit www.hermanuswineroute.com or call Hermanus Tourism 028 312 2629.
The wine route can be reached from the Sandbaai traffic lights where the R43 to Hermanus and the R320 to Caledon intersect. At the entrance to the wine route is the Hemel-en-Aarde Village. Here you will find the first two wineries on the Hermanus R320 Wine Route, as well as Hermanus Wine Village. Hermanus Wine Village offers a large and comprehensive collection of South African wines for sale. Owners Paul and Cathy du Toit and their knowledgeable staff present daily tastings of a varied selection of wines and are able to courier or ship wine purchases locally as well as internationally. Open Monday to Friday 09:00 – 18:00; Saturday 09:00 – 17:00; Sundays 10:00 – 15:00. Call 028 316 3988 or email winevillage@hermanus.co.za
Whalehaven was named after the protective bay that shelters breeding southern right whales in the cool Cape winter months. The wines are made for the most part from grapes from the Bottega family farm, Da Capo Vineyards in Somerset West, and are vinified and bottled at the Whalehaven winery. There are various pairings to experience with the wines. Try the artisan chocolate pairing or their jam pairing for something different. Tasting and sales Monday to Friday 09:00 – 17:00 Saturday and Sunday 10:00  – 16:00. Closed on Christmas Day. Open 1 January. Call 028 -316 1633.
Hermanuspietersfontein, situated 250 metres hundred metres from the entrance to Hemel-en-Aarde Village and best known for its remarkable range of Sauvignon Blancs, Bordeaux and Rhône-style blends and its iconic Afrikaans wine names. The cellar's Wine & Food Market is open every Saturdays from 09:00 till 14:00 and a great place to meet up with locals and visitors alike. Hermanuspietersfontein presents a full calendar of events during the festive season for which bookings are advised. Tasting and Sales: Monday to Friday 09:00 – 17:00; Saturday 09:00 – 16:00. Call 028 316 1875
From the Hemel-en-Aarde Village, the R320 meanders through the Hemel-en-Aarde Valley, leading you to Southern Right, Wijnskool, Hamilton Russell Vineyards, Bouchard Finlayson and La Vierge.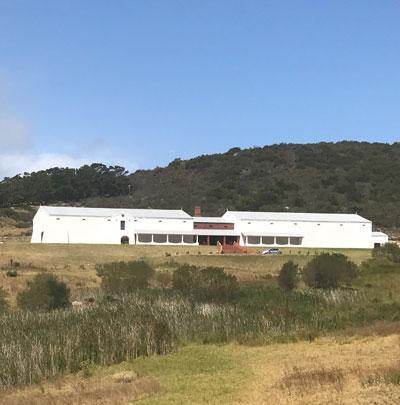 Southern Right produces a popular Sauvignon Blanc and Pinotage with labels depicting the southern right whale. A portion of the proceeds of the sale of these wines goes to the conservation of their namesake. The cellar is open to the public Monday to Friday 09:00 – 17:00 and Saturdays 09:00 – 13:00. Call 028- 312 1318.
Wijnskool - The new home to Bartho Eksteen Wines is situated across the road from the entrance to Southern Right. This is not just a tasting room but also a wine education centre and a sales office. There are three collections to pick from. Tree of Knowledge, Signature and Flagship range. Tastings are by appointment and picnics can be arranged to pair with the characteristic Eksteen hospitality. The Eksteens host and annual harvest celebration when the grapes are all picked an in the cellar. Call 028 312 4612.
Hamilton Russell Vineyards receives credit for planting the first vines in the Hemel-en-Aarde Valley. The famed estate specialises in producing two acclaimed wines – Pinot Noir and Chardonnay – which can be tasted at their quaint thatched tasting facility overlooking the dam. The elegant and highly individual wines are world-renowned. Open for wine tasting Monday to Friday 09:00 –17:00 and Saturday 10:00 – 14:00. Call 028  312 1791.
Bouchard Finlayson's flagship wine is the Galpin Peak Pinot Noir, for which celebrated winemaker Peter Finlayson has won many awards. Growing on the slopes of Galpin Peak, repeated vintages of this path-blazing wine continue to reflect a true celebration of Pinot-crafting. Other varieties include Sauvignon Blanc, Chardonnay and a dry white blend, Blanc de Mer. Charcuterie and cheese platters are available for a nibble between tastings or after a hike on the fynbos trails. There are three route options and energetic holiday hikers can choose between a guided or self-guided walk. Be sure to pre-book. The tasting room is open Monday to Friday 09:30 –17:00 and Saturday from 10:00 – 13:00. Call 028 312 3515.
Die Boersewyn at the Die Plaaskombuis is owners Jadrie and Nitta Lötter's own range of wine made from the grapes produced on the Hemel-en-Aarde farm Vrede where they have lived and worked for the past thirty years. A tasting can be done at R10 pp any day of the week. There is a Sauvignon Blanc, wooded Chardonnay, Rhone blend and Grenache Rose. These wines are made by Hannes Storm at Spookfontein cellar and offered for sale in Nitta's farm stall that has been going for almost four years. Die Plaaskombuis is also a stop on the Hermanus Wine Hoppers route. Open from Monday to Sunday 8:00 – 17:00. Call 073 230 0788.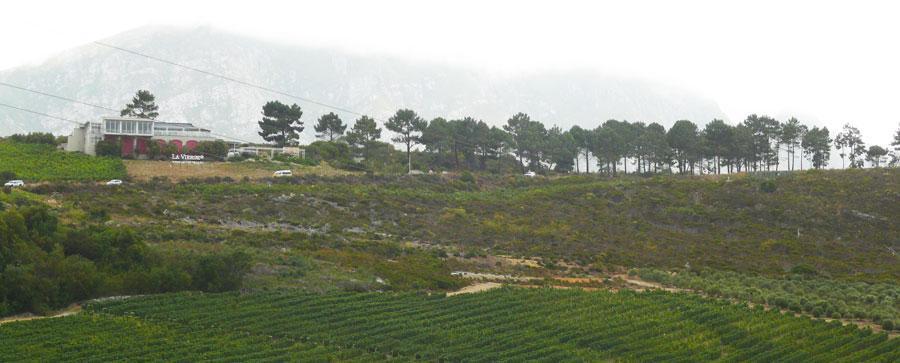 La Vierge specialises in producing Pinot Noir from their grapes that are grown in Hemel-en-Aarde Ridge. Their range also includes Bordeaux and Rhône-style blends, Shiraz, Riesling, Sauvignon Blanc and Chardonnay. The Restaurant & Champagne Veranda offers unsurpassable views where visitors can sit, sip and appreciate the views or play a game of boule. Visitors can keep their wine glasses close while playing a game of boules. For bookings call 028  313 2007. Wine tasting is offered at R30 pp for a tasting of 6 wines Monday to Sunday from 10:00 – 17:00.
La Vierge is the last winery in the Hemel-en-Aarde Valley, and the wine route continues along the R320 to the Upper Hemel-en-Aarde Valley with Sumaridge, Newton Johnson, Restless River and Spookfontein.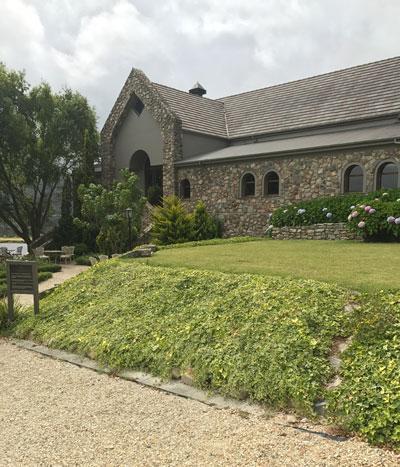 The Bellingham Turner family owns Sumaridge Estate Wines with vineyards between two imposing mountain ranges. The winery offers views of the Atlantic Ocean responsible for the cool maritime climate, which helps create wonderfully, balanced wines that age extraordinarily well. Production includes Sauvignon Blanc, Chardonnay, Merlot, Pinot Noir, Pinotage, Syrah and Wayfarer Cap Classique. Visit the beautifully appointed tasting room daily between 11:00 and 17:00, enjoy a light lunch platter (12:00 – 15:00) and admire the spectacular landscape. A self-catering guesthouse, The Lodge, is on the estate. Call 028 -312 1097.
Newton Johnson Vineyards is where brothers Bevan and Gordon have taken the Newton Johnson family cellar and vineyards to new heights in exploring the nuances of their vineyards. The cellar is situated on the mountain slope with spectacular views of the valley and the ocean beyond. Opening times are Monday – Friday from 09:00 – 16:00, Saturday 10:00-14:00. Call 028 -312 3862. The Restaurant at Newton Johnson offers platters and light lunches from Wednesday to Sunday 12:00 – 14:30. Call 021-200 2148 to book.
Restless River has some of the oldest Cabernet Sauvignon and Chardonnay vineyards in the Hemel-en-Aarde. Owners, Craig and Anne Wessels, hand craft site-expressive wines from vineyards farmed as naturally as possible to develop depth and complexity. For a private tasting on the farm, call 028 -312 2881 or 082 650 3544.
Spookfontein enjoys magnificent views from their restaurant next to their boutique cellar. The restaurant is now owned and managed by Vaughan van Blerk and Francois Barnard of Harbour Rock. The Spookfontein range of wines includes Sauvignon Blanc, Pinot Noir, Rosé, Merlot, Cabernet Franc, Cabernet Sauvignon and a blend: The Phantom. The restaurant is open for lunch and wine tastings. Open Tuesday- Sunday from 11:00-17:00. Phone 0730677936 for a reservation.
Hannes Storm's Storm Wines cellar is situated on the Spookfontein property. Here Hannes crafts Storm Vrede, Pinot Noir, Storm Vrede Chardonnay and Storm Ignis Pinot Noir. With thirteen Hemel-en-Aarde vintages at Hamilton Russell Vineyards to his credit Hannes Storm went solo to produce his own brand – Storm – in 2012. Two Hemel-en-Aarde vineyards, Vrede in the Hemel-en-Aarde Valley and Ignis in the Upper Hemel-en-Aarde Valley, were selected for their exceptional terroir and worked out well judging by the accolades earned. Hannes is available by appointment on 082 325 4517 for private tastings in his intimate barrel cellar next to the R320 road.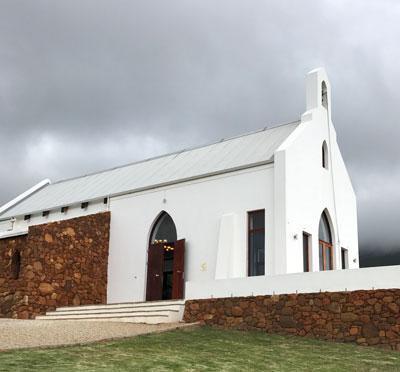 Further up the Hemel-en-Aarde Road is the final stretch of the Hermanus Wine Route – the Hemel-en-Aarde Ridge. This is home to Ataraxia, Creation, Domaine Des Dieux Mount Babylon and Jakob's Vineyard.
Ataraxia is a boutique wine estate producing a range of handcrafted wines including Sauvignon Blanc, Chardonnay, Pinot Noir and a red blend. Ataraxia's Wine Lounge® is situated in a small chapel at the foot of the majestic Babylonstoring. It houses a permanent art exhibition and an old bell at the front of the tasting room which visitors ring to announce their arrival. Open Monday to Friday 09:00 – 16:00; Saturday 10:00 – 17:00. Call 028 212 2007.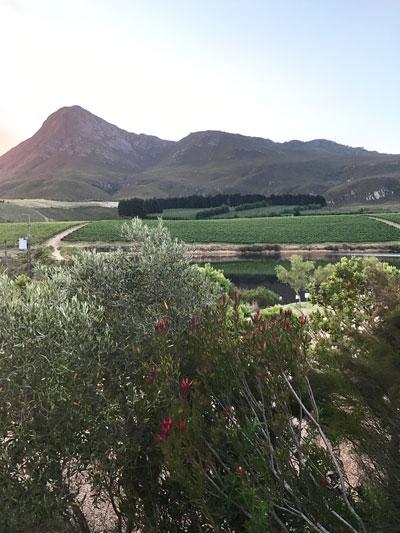 Creation offers informative vineyard and cellar tours, relaxed wine tasting and innovative food and wine pairings. Adventurous visitors have an opportunity to blend their own wines in the cellar. The dynamic owners, Carolyn and JC Martin, are producing an impressive portfolio of wines that include Sauvignon Blanc, Viognier, Semillon, Chardonnay, Pinot Noir, Merlot, Petit Verdot, Cabernet Sauvignon and Syrah Grenache. Creation has won numerous national and international wine tourism awards for innovation and service excellence. Guests are guaranteed a new and unforgettable experience with every visit. The tasting room is open seven days a week. Call 028 212 1107.
Domaine des Dieux or "Place of the Gods" produces a small range of award winning wines. These wines are produced with the same fundamentals as the great French and European wines and are cellar aged in order to reach their full potential. The range consists of two signature Cap Classiques as well as Pinot Noir, Chardonnay, Syrah Mourvèdre and a Sauvignon Blanc. The tasting room is open from 11:00 – 17:00 from Monday to Saturday, and open during the season on Sundays as well. Call 028 313 2126 Jakob's Vineyards and Mount Babylon are open by appointment only.
Seven Springs Vineyard belongs to Tim and Vaughan Pearson from the UK who are as passionate about their wines as they are about South Africa. Virgin land was bought in 2006 and vines planted in 2007 and 2008 and winemaker Riana van der Merwe was taken on in late 2009. Plans for a cellar and tasting room are imminent but their wines can be bought at The Wine Village and The Wine Boutique in Hermanus. You can also taste their wines in many top Hermanus restaurants. The range includes international award winning wines made from Sauvignon Blanc, wooded and unwooded Chardonnay, Syrah and Pinot Noir. They have an office in Hermanus and can be contacted on 028 316 4994 - website: http://7springs.co.za/