Hermanus War Memorial
Word War I & World War II
Author: Jaydee Media
Thursday, 13 June 2013
Questions & Answers:
Why did Hermanus send more men to both World War's than any other town?
We are still investigation this question. Please comment and send us your view.
We had many brave young men.
According to some people in Hermanus there were a lot of English people in Hermanus with English roots.
According to Mr. H. Saayman: Hermanus was only a small fisherman's village at the turn of the century. The only industry was fishing, a couple of young men needed jobs, there were no other income or jobs than fishing, so the young men left for war.
Why do the guns facing inward?
Because we are not at war.
Page Views
3294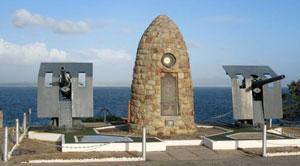 The war memorial was built after World War I, in 1929 in memory of those who died in WW I. According to the Old Harbour Museum, the inauguration was performed by Henrietta Poole, whose son Evered died at Ypres, Belgium in World War I.
The monument was designed by a Cape Town architect and the gun shells was taken from rock piles in Hermanus. The Grandfather of Julius Sell, who still live in Hermanus, Build the War Memorial.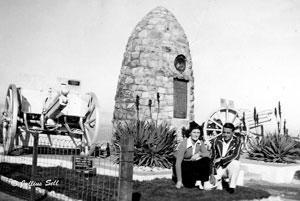 Hermanus sent more men to both WWs than any other town in South Africa, and in recognition the Union Government presented two field guns as trophies to be mounted on either side of the stone cairn.

The first guns at the monument were two German field guns captured in South West Africa during the First World War.

They eventually fell into disrepair - Being close to the sea, the old guns weathered. The wooden spokes in a wheel casing, were falling apart, and were replaced in 1963 by the present naval guns.
The guns are facing inwards because we are not at war.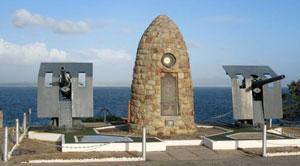 The bronze plaque contains the names of those who died in both WWs as well as the Bush War.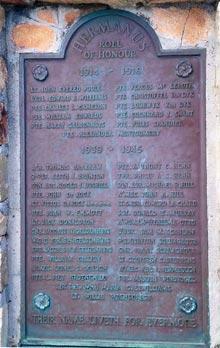 The first plaque bore the names of 11 men of Hermanus who had fallen in the first World War, and the second plaque bears a further 15 names of Hermanus residents who were killed in the Second World War.
Another plaque commemorates Roger Bushell who master-minded the Great Escape. His parents were resident in Hermanus at the time.
Source
Old Harbour Museum - Information & Photos
http://www.old-harbour-museum.co.za/
Hermanus Stories - S.J. du Toit - Information
Julius Sell - Information & Photos
Jaydee Media - Information & Photos
Mr. Harvey Saayman - Information