New requirements for car licence renewals in South Africa from 1 Nov 2015
Jaydee Media
Friday, 06 November 2015
Page Views
7030
Warning: Justice Project South Africa has warned motorists to take proof of address with them when renewing their vehicle licences.
This means the public needs to take along their ID, copy of ID and proof of residence, such as a municipal utility bill, telephone account or retail store account, which is not older than three months, for verification.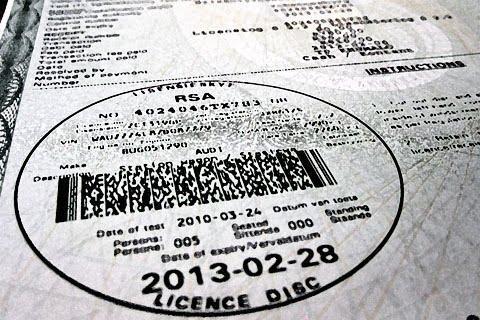 An amendment to the National Road Traffic act now requires that the public provide proof of residence when applying and renewing motor vehicle or driver's licences.
This is similar to RICA in telecoms or FICA in banking, and will be used to update the Electronic National Administration Traffic Information System (eNaTIS) database.
Motorists will have from November 2015 until November 2016 to provide the traffic department with updated proof of identity and address particulars.
This means that motorists and companies will have to provide the following information to register vehicles, and renew licence discs and driving licences:
Full names, date of birth, identity number, and business registration number, along with any form of acceptable identification.
Proof of postal and residential address, by means of any utility account. As with RICA and FICA, if your name isn't on the account you need an affidavit from the person in whose name the account is stating you live at that address.
If you live in an informal settlement, you need a letter with an official date stamp from the ward councillor confirming your postal and residential address.
More info how to FICA:
PROOF OF IDENTITY:
In the case of South African citizens, a South African ID document or valid South African passport will be acceptable.
In the case of foreign nationals, certified proof of a traffic register number as issued by the appropriate registering authority will be required.
In the case of a business, certified copies of the CK (proof of registration) or the certificate displaying the business's registration number (BRNC) together with the proxy or representative's ID, valid South African passport or, in the case of foreign nationals, traffic register number will be required.
PROOF OF RESIDENCE:
In the case of an individual, a utility bill [your municipal account] together with any statement (not older than 3 months) from a retail store, a cell phone service provider or the likes will be acceptable.
Note that if that municipal account [the utility bill] has not been issued in your name, for instance where you are renting a property, the owner of the property must submit a sworn statement that you do, in fact, live there. Likewise, in instances where you reside in an informal or rural settlement, you will need a sworn statement from your ward councillor or municipality to confirm your residential address.
In addition, you must complete and hand in a form NCP (notification of change in particulars). This form is available at all licensing authorities or online.
Download your Notification of change of address or particulars of person or organisation (Form NCP)