Ben Haumann se 1930 Ford Model A Tudor.
Dit is volgens alle rekords die enigste linkerstuur 1930 Fordtjie in die land. Ben het die Fordjie in 2008 van oom Willie Brits van Empangeni gekoop. Die outjie was vir plus minus 25 jaar in sy besit, so ongeveer van 1973 af. Waar hy daaraan gekom het weet ons nie.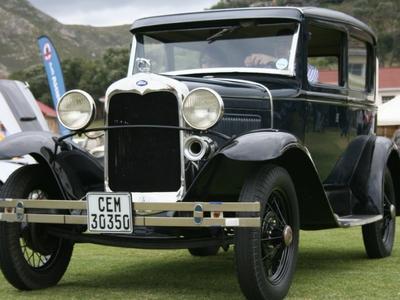 Verdere interessante inligting is dat oom Danie Loubser absoluut oortuig daarvan was, dat na sy wete en inligting, die motor vanuit 'n Argentynse vis-fabriekskip in die Gansbaai Hawe afgelaai is. Die skip was vermoedelik oppad verder oos, en indien die vrag vir die binneland bedoel was, heel moontlik Durban of self Maputo (destyds nog LM) Die twee hawens was die invoerhawens vir die binneland.
Of die skip teenspoed opgetel het en moes omdraai weet niemand nie maar die kaptein het toe maar die motortjie net daar afgelaai. Miskien wou hy meer vis laai en het ruimte nodig gehad. Die storie lui verder dat die motor vir heelwat maande in Gansbaai gestaan het totdat daar 'n doeanebeampte van die Kaap kon kom om die invoerpermitte en dokumentasie na te gaan en te stempel.
Ek weet nie of die Spoorweg-padmotor busdiens (Hermanus se Trein) toe al bestaan het nie en straks moes die ou met 'n perdekar van die Kaap af kom. Ek dink die eienaar van die motor was teen daardie tyd seker al raadop. 'n Verdere interessantheid rondom die Durban vermoede is die feit dat Ben die motor in Empangeni raakgeloop het en dit vir daardie omgewing bestem was.
Oom Danie was erg oor sy Fordjies en het altyd deeglik navorsing gedoen en het goeie rekord van elke reeksnommer van Fords van die 28-31's plus gehou. So al wat ek kan sê is dat daar tog iewers waarheid in die bewerigs skuil want vanwaar dan die gerugte van Gansbaai. Waar daar 'n rokie is,is daar 'n vuurtjie, of hoe? Iewers is of liewer was daar iemand plaaslik wat by die hawe gewerk het en wat weet van hierdie storie. Net jammer dat hulle destyds nie waarde geheg het aan ou voertuie nie en ten tye was die Fordjie in elk geval nog nie so oud soos 'n perdekar nie. Wat egter vandag saak maak is dat Ben se Fordtjie weer terug is waar hy/sy "eerste lig" gesien het in ons land en dan ook so pragtig versorg word deur Ben en Susette.
Groetnis vir eers. Piet Haumann
Oom Ben se 1930 Fordjie is een van 250 voertuie by die Whales & Wheels Vintage Car Show uitstalling op die Hermanus Hoerskool veld tydens die Hermanus Whale Festival 29 Sepemeber - 1 Oktober 2017