Bettys Bay Fire:
Residents in Betty's Bay are picking up the pieces after a fire raged through parts of the small town and other parts of the Overstrand area in the Western Cape over the last two weeks.
In Betty's Bay, where 102 firefighters were deployed, the fire reached homes on both sides of the R44, the main coast road.
A preliminary structural assessment reports 31 residential properties destroyed and 28 damaged. Firefighting and mop-up operations are in progress and will continue for several days. Still-active fire lines pose risks for this area.
A 71-year-old man was seriously injured while evacuating his Betty's Bay home during a series of wildfires that ravaged the Overberg coast in the Western Cape, it emerged on Saturday.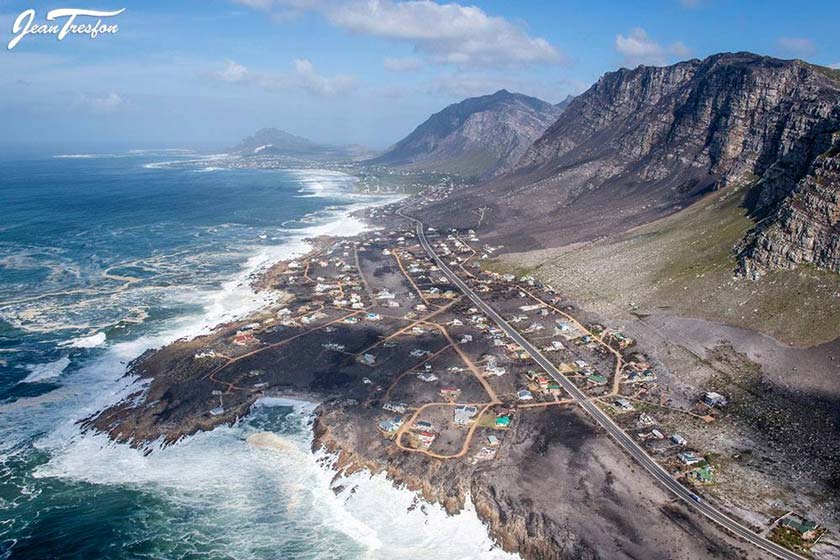 Betty's Bay suffered the most damage with many houses completely destroyed as the fire burned right to the shoreline.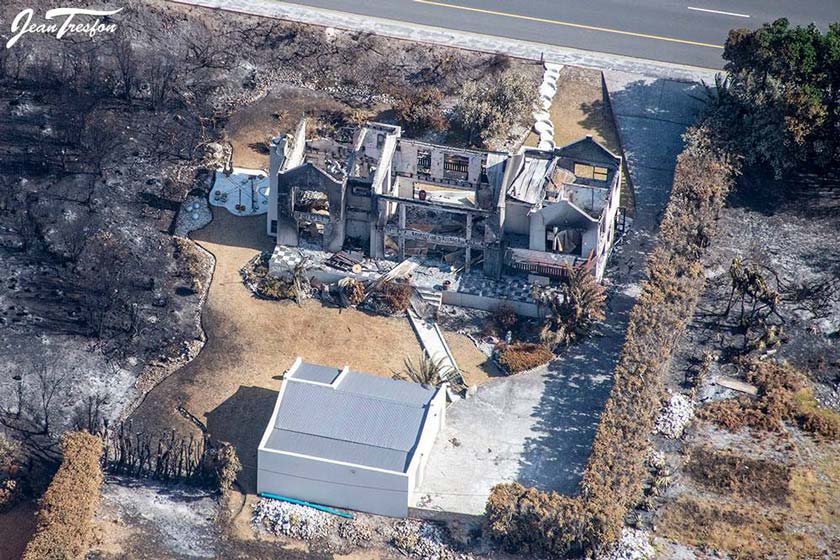 At least 31 houses have been completely destroyed and 28 partially damaged by wildfires on the coastal Overstrand region in the Western Cape.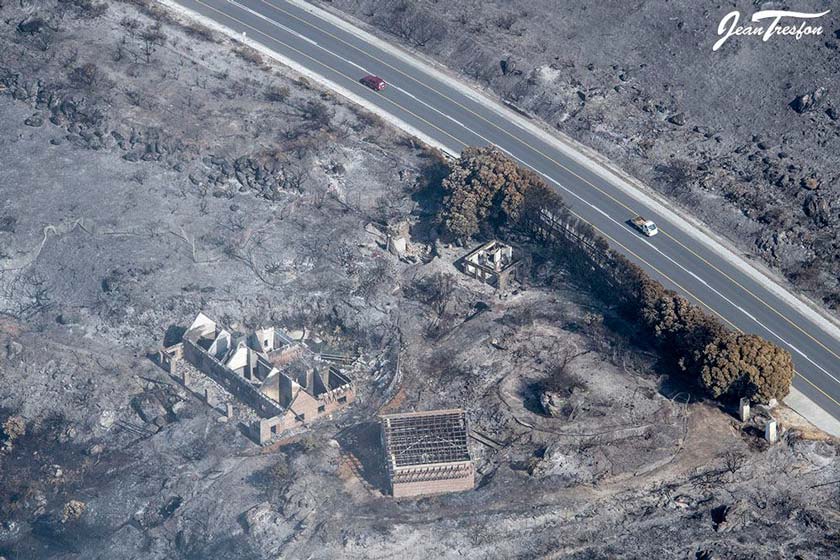 This image tells the whole story... Total destruction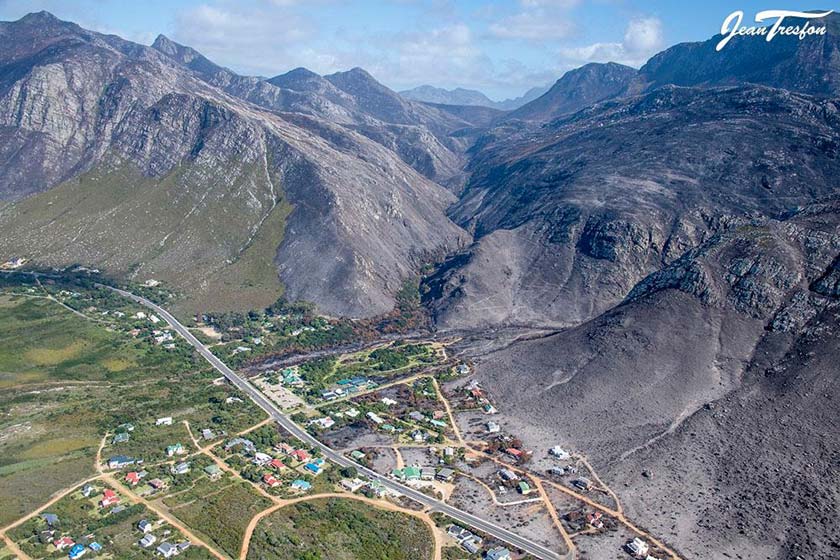 The Harold Porter Botanical Gardens did not escape unscathed either. Thousands of hectares of mountain fynbos was also destroyed along with countless animals such as snakes and tortoises.
Karwyderskraal - Hermanus Fire
In Karwyderskraal, in the mountains behind Hermanus, fire breaks failed to arrest the flames and damage was reported to buildings, water pipelines, fences, and Eskom pylons.
A hustling wind turned and the Karwyderskraal fire crossed the Hemel-en-Aarde valley and reached the mountain above Hermanus, Northcliff and Hermanus Heights. The head was extinguished above Fernkloof."
Camphill Farming Community had 30 minutes to evacuate, it was a Chilling escape for Hermanus centre's disabled patients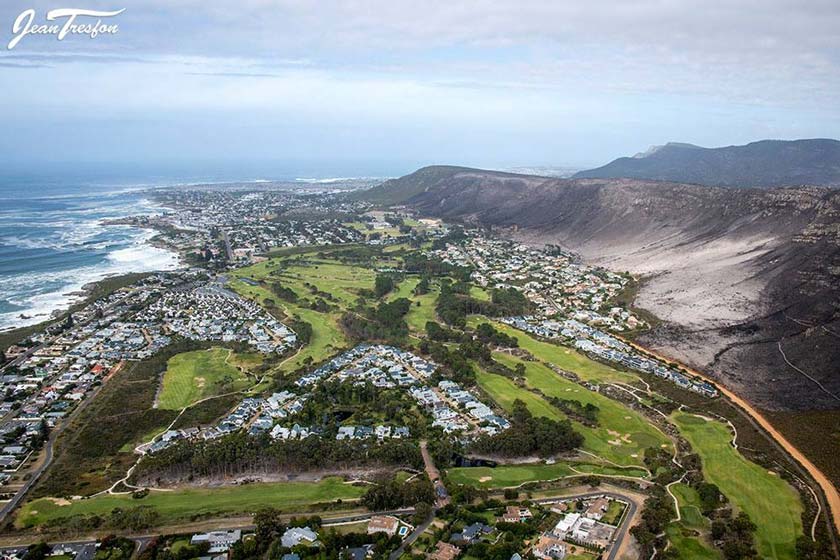 The fires burned over the mountain and right up to the golf course in Hermanus.
From this angle high above Fernkloof the extent of the Hermanus fires is more apparent.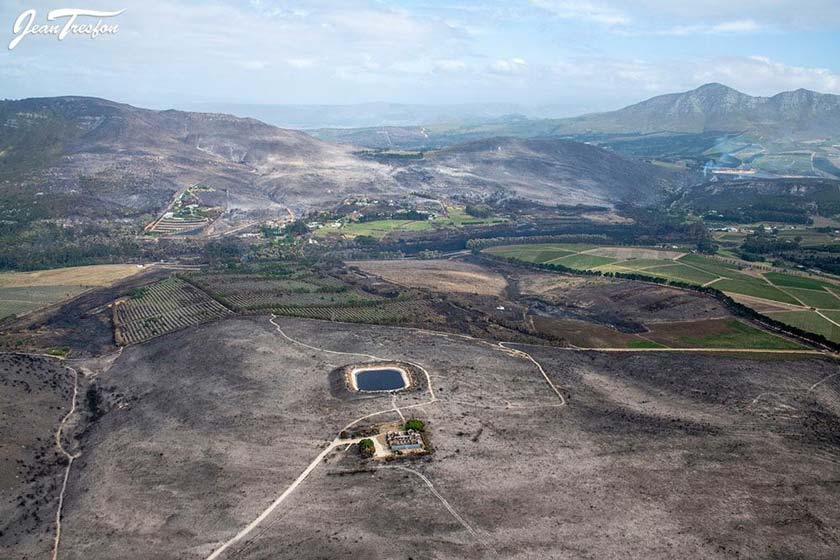 You can see the fire damage can be seen in the Hemel-and-Aarde Valley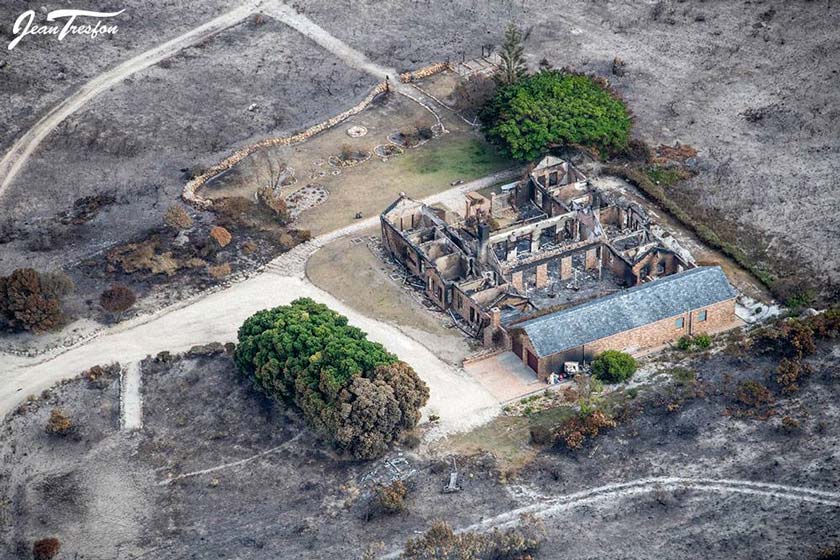 Isolated properties on top of the mountain in the Hemel-and-Aarde Valley were not able to be saved.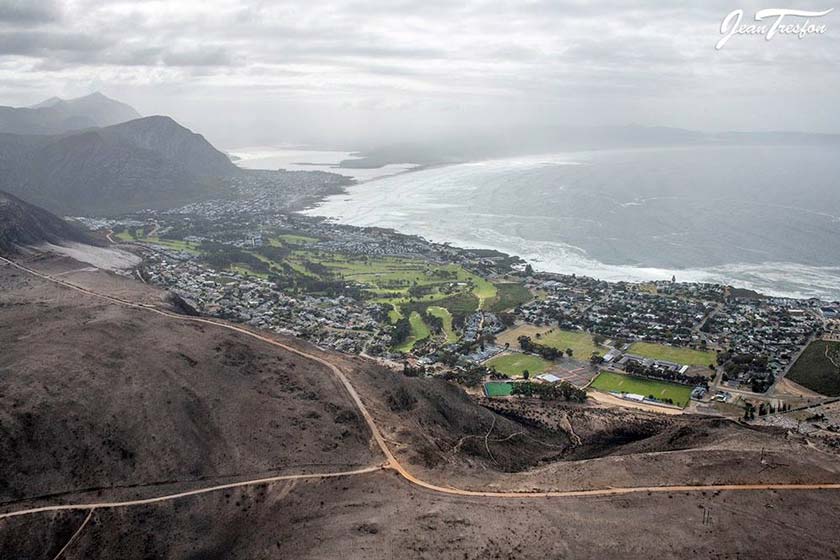 Looking east towards the mouth of the Hermanus lagoon mouth gives another perspective on the raging fire.
Franskraal Fire
Residents of Franskraal were ordered to evacuate around lunchtime on Friday 11 January 2019 after the fire, driven by strong winds, spread from Masakhane over the R43. Aerial resources were deployed but stood down due to unsafe conditions and low cloud cover.
Furious efforts to protect homes and evacuations ensued. This was, and will be for a long time, a very difficult time for this community. A mammoth effort by Overstrand Municipality, Overberg District, neighbourhood watch, local farmers and the local community limited damages to two structures damaged and five wooden structures destroyed.
A report state that 5 houses had been destroyed in Franskraal caravan camp, near Gansbaai, as 60km/h winds gusting up to 94km/h fuelled flames that towered over buildings.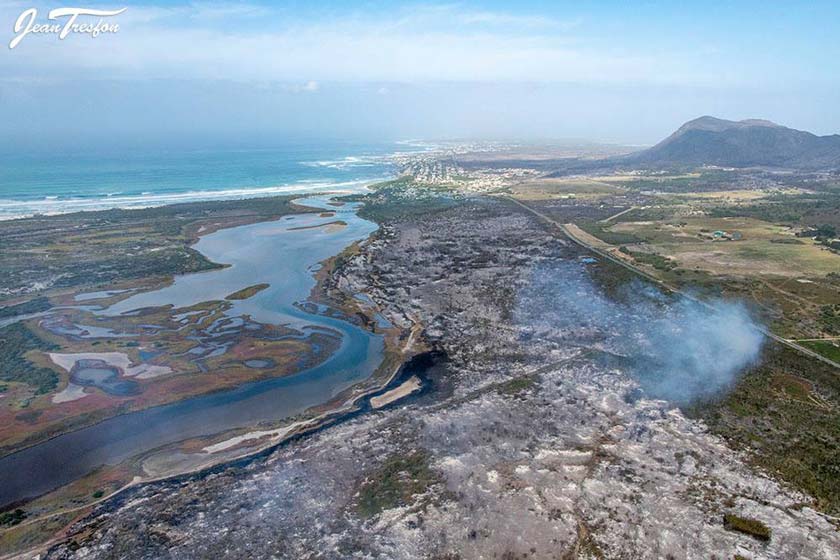 The still smoldering and smoking vegetation at Uilendskraalmond as I flew over by Jean Tresfon - Marine Conservation Photographer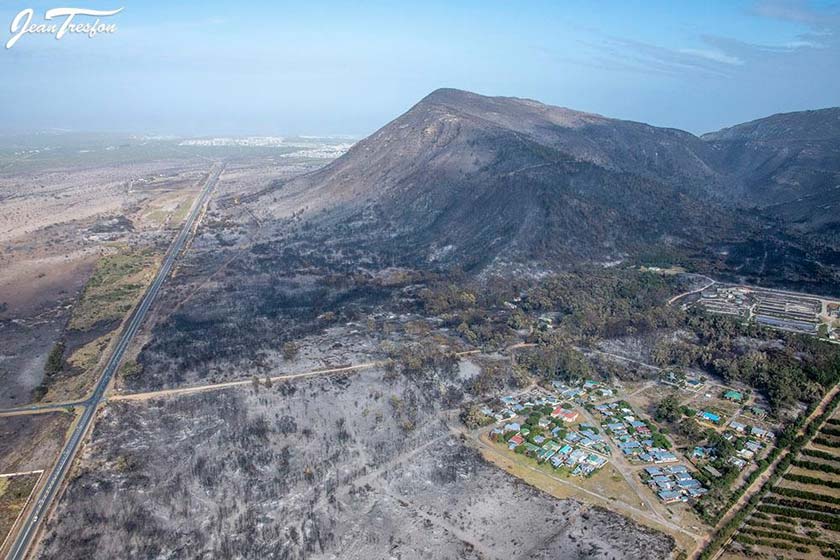 Image above: Franskraal Caravan park - A report state that 5 houses had been destroyed in Franskraal caravan camp, near Gansbaai, as 60km/h winds gusting up to 94km/h fuelled flames that towered over buildings.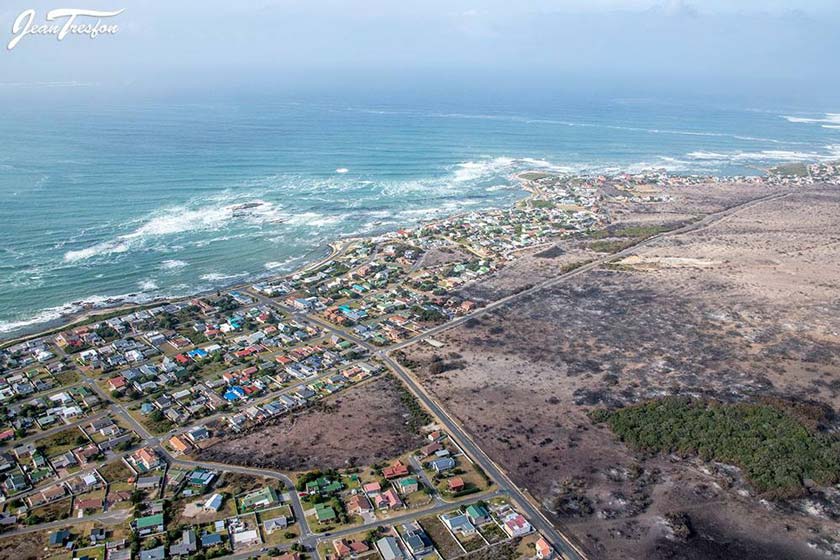 The fires burned right up to the houses on the coastline at Franskraal.
DONATIONS TOWARDS THE OVERSTRAND FIRES:
All donations towards the firefighting efforts can be delivered to the Hermanus Fire & Rescue & Disaster Management offices in 14 Mussel Road, Hermanus Industrial Area. They are open 24 hours per day.
Donations for Betty's Bay fire victims can be dropped off at the Crassula Community Hall on Crassula Road in Betty's Bay. Donations toward Franskraal fire can be dropped off at Gansbaai Tourism Office, located at Great White Junction (SPAR Centre), Main Road, Gansbaai.
For those looking to donate money, financial donations can be made to Overstrand Municipality bank account:
ACCOUNT HOLDER: Overstrand Municipality
ACCOUNT TYPE: Current Account
BANK: ABSA Bank
BRANCH: Hermanus
BRANCH CODE: 334-812
ACCOUNT NUMBER: 3220 000 035
Donors must use the reference: EMF (EMF stands for Executive Mayor Fund) followed by GGB = GANSBAAI, KBB = BETTY'S BAY, HMS = HEMEL-EN-AARDE/CAMPHILL
Example: EMF/GGB - Support or Rewar