On Saturday, 20 June, the Southern African Foundation for the Conservation of Coastal Birds (SANCCOB) released the first group of seven African penguins admitted to its centre in Cape St. Francis following a recent mystery oil spill.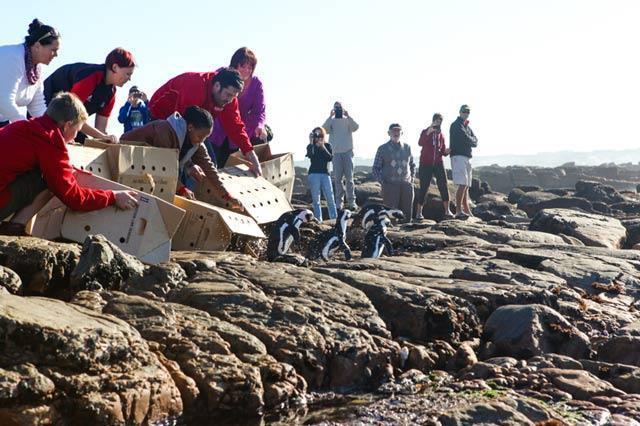 Since late May, the non-profit seabird centre has admitted 30 oiled African penguins and four orphaned African penguin chicks from Bird and St. Croix islands after being rescued by rangers from the Marine Section of the Addo Elephant National Park (SANParks).
Members of the public were invited to join SANCCOB to watch the rehabilitated penguins take the waves back into the Indian Ocean on Saturday morning. A few lucky individuals had the chance to adopt and personally release a penguin back into the wild. One of the adoptive parents was local restaurant owner, Ciske Botes, who enjoyed the opportunity to tip the release box and wave his adopted penguin, christened Anchor, farewell. Botes added, "Penguins are dear to our hearts and fall into a class of their own; they are truly fascinating creatures. It is always a privilege to help any animal and it has been an honour to be part of this journey from arrival to release. We shall continue to help SANCCOB where we can".
Botes helped to transport two batches of oiled penguins from Port Elizabeth to SANCCOB's seabird centre in Cape St. Francis during the rescue operation.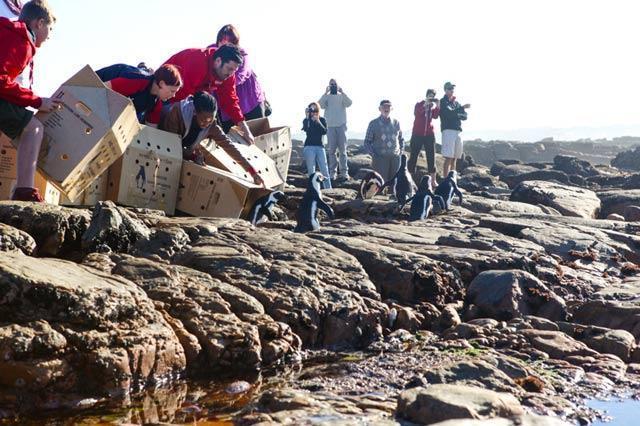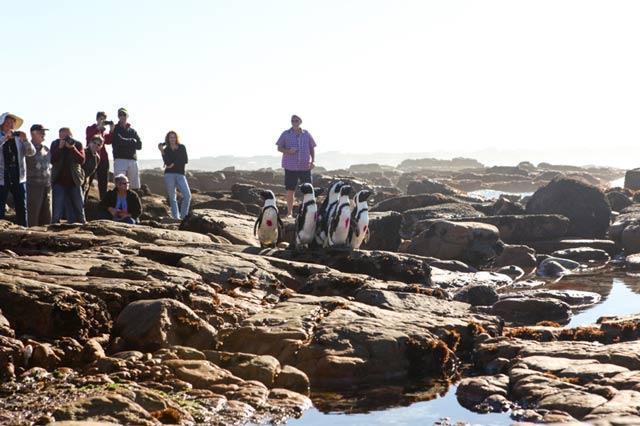 Thanks to the hard work of staff and volunteers at SANCCOB, a second group of African penguins have been successfully rehabilitated and approved for release this weekend by SANCCOB's veterinary team. The release will take place on Sunday 28 June, at 10h30, at the Seal Point Lighthouse in Cape St. Francis.
The four African penguin chicks are growing into strong, healthy juveniles, weighing more than two kilograms and no longer require feeding at night, but will only be ready for release in a month's time, when they have replaced all of their down feathers with new, waterproof feathers. One of the chicks has already been designated a 'Baby Blue', which means he has lost all of his baby fluff and has been moved out to join the other penguins in the rehabilitation pens. Three of the four chicks are already swimming to regain the natural waterproofing of their feathers.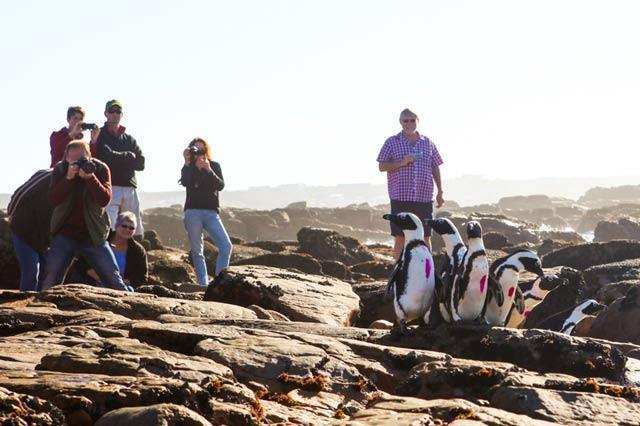 As a non-profit organisation, SANCCOB is asking the public to support this project by donating funds towards the rehabilitation and hand-rearing costs of the remaining endangered African penguins and to help ensure they are successfully released back into the wild in the coming weeks. Donations may be made online by visiting www.sanccob.co.za or through an electronic funds transfer to: