The Stanford Wine Route in South Africa is an up and coming area in the Overberg. Wine Estates here are producing award winning, cool climate wines.

The town of Stanford is about 25 km from Hermanus and falls within the Cape Whale Coast Route. This Victorian influenced village on the banks of the Klein River is considered by many as an undiscovered gem but is fast becoming a popular weekend getaway destination as it is a mere 150 km from Cape Town. A wide variety of accommodation establishments abound and there is much to explore and experience in the area.
Stanford is close to the southernmost tip of Africa, making it one of South Africa's coolest wine producing regions. The vineyards enjoy a cool ripening season, the result of the strong cooling winds that are prevalent in summer. These are of course ideal conditions for the production of top quality and award winning wines, according to Masayiti.
The route is relatively small with only eight members at this stage. However,everybody agrees that expansion is inevitable as Stanford's unique terroir is bound to new entrepreneurs and some existing producers have indicated that they want to be part of this new venture.
About the Wineries:
Misty Mountains Estate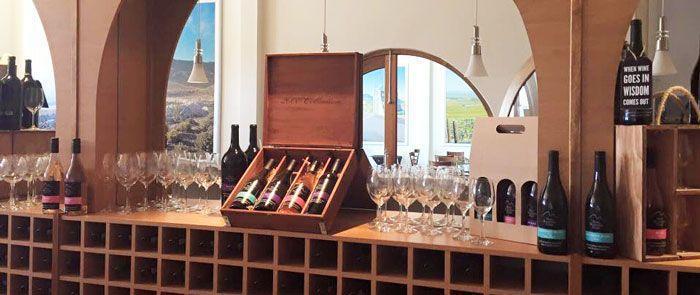 This is the first winery visitors will encounter when travelling from Hermanus on the R43.
Legend has it that the name comes from the fog that develops on the lagoon quite close by and ascends the mountain leaving it veiled in a misty shroud.
It is owned by Gauteng business man, André van Vuuren, who bought it in 2004, establishing the first vineyards in 2005. The first vintage was produced in 2008. Robert Davis is the General Manager with Stellenbosch University educated Neil Patterson consulting as winemaker.
Of the farm's 46 hectares, 16 ha are mostly under Sauvignon Blanc and Shiraz vines. Four hectares higher up on the property are earmarked to be planted with Chardonnay and Pinot Noir for their first Méthode Cap Classique.
Apart from the vineyards the farm also features olive trees and bottles water from its own natural source under the Misty Mountain label. Exciting new developments are on the cards with a deli, a cheese factory, a micro-brewery and guest accommodation, to name but a few.
For the time being the tasting room is open 6 days per week where cheese platters are offered and the wines on offer can be sampled.
Springfontein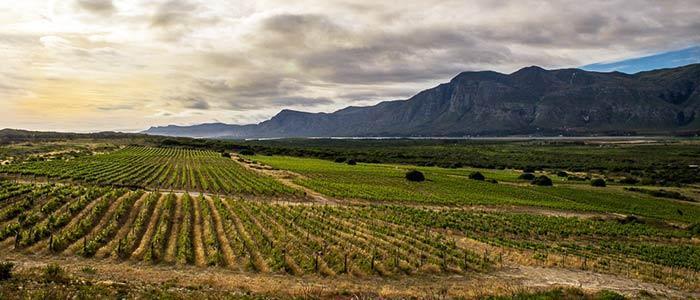 The property lies south, on the opposite side of the Klein River.
A dream to create a project involving family and friends inspired owner Dr. Johst Weber to purchase the farm in 1994. The cool, windy Walker Bay climate and limestone soils proved to bring out the best in the Chenin Blanc and Pinotage, the grape varieties they decided to specialize in. Winemaker Tariro Masayiti and horticulturist/viticulturist Hildegard Witbooi work side by side to coax the very best grapes from their unique terroir for their selection of handcrafted, award winning wines.
Their tasting room is open 7 days a week and the new Springfontein Bar(n) opening on 1 October, promises a new pairing experience with snacks and wine.
The farm also offers accommodation in a handful of beautifully decorated cottages and the restaurant run by Michelin starred chef Jürgen Schneider and his partner Suzanne, is a must do on anybody's bucket list.
http://www.springfontein.co.za/
Sir Robert Stanford Estate

This winery is just off the R43 and about one kilometre before the town of Stanford.
The estate, established in 1855 and once owned by the entrepreneur Sir Robert Stanford, lies on the southern slopes of the Kleinrivier Mountains, believed to be the southernmost mountain range in South Africa. It is one of Walker Bay's oldest wine establishments dating back to the 1890's. Vineyard blocks on granite soils overlook the Klein River Valley and benefit from the cool maritime breezes. Approximately 60 hectares of the farm is planted with amongst others Chenin Blanc, Sauvignon Blanc and Shiraz. More than 200 Fynbos species, a bounty of wildlife and vineyards managed to exist in harmony, has earned the estate a Biodiversity and Wine Initiative Championship award. A delicious and wholesome freshly prepared meal at Madré's Kitchen should not be missed while a visit to the Stookhuis distillery or art studio literally adds gusto and colour to your visit.
http://www.robertstanfordestate.co.za/Home.html
Stanford Hills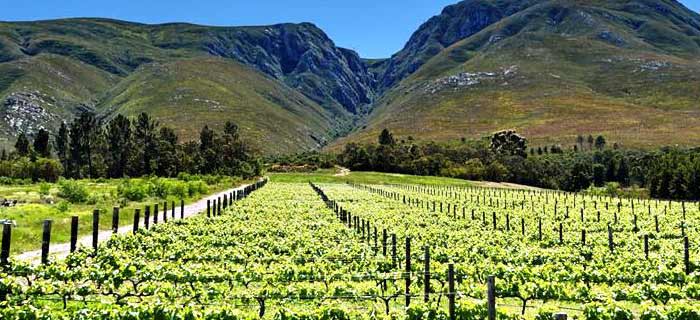 The farm, owned by Peter and Jami Kastner, is next door to Sir Robert Stanford Estate. Here, on the estate with its magnificent vistas, they produce their range of wines that includes Sauvignon Blanc, Chardonnay, Shiraz and Pinotage. They also grow flowers for the export market, roses for the local
market as well as olives.
The original old farmhouse, believed to have been built in 1855 by the founder of the village, became a school for girls and today offers accommodation to tourists visiting the area.
The farm's restaurant and wine tasting facility, The Tasting Room, is extremely popular and constantly packed with visitors. The chalkboard menu changes daily and always offers an interesting variety of options. The kitchen uses local organic and free-range products wherever possible, as the chef has a strong belief that using quality fresh, local ingredients make memorable meals.
The full range of Estate wines are sold at cellar door price to restaurant guests.
Stanford Hills is the ideal place for a family visit as it is extremely child friendly.
http://www.stanfordhills.co.za/
Walker Bay Vineyards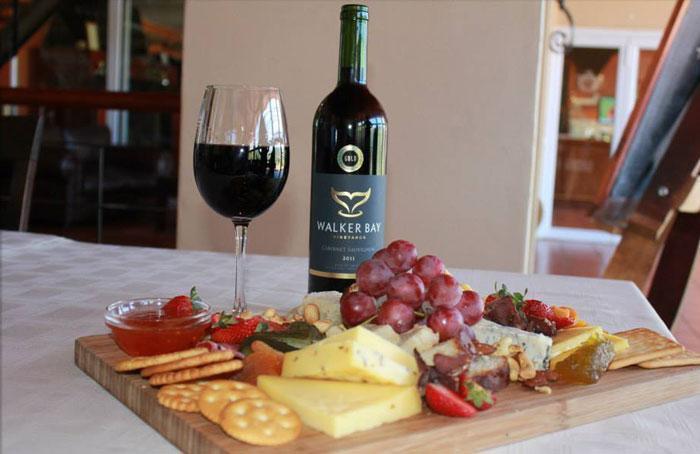 Virtually around the corner from the above wineries and just outside Stanford village is Walker Bay Vineyards, a boutique wine estate which is also home to the Birkenhead Brewery.
Vines were planted for the first time in 2003 and they released their maiden vintage Sauvignon Blanc and Chardonnay in 2007 followed shortly afterwards by their red blend consisting of Cabernet Sauvignon, Merlot and Petit Verdot.
The ±20 hectares of vines planted on clay-textured soils and benefitting from the prevailing cool winds from the ocean now also include Shiraz.
The winery conducts tours of the brewery, wine and beer tastings and runs a restaurant and pub that not only offers mouth-watering meals but also the most spectacular views of the Klein River Mountains. Alternatively you can settle down on the vast green lawn with a sumptuous picnic, enjoying a magnificent sunset.
http://www.walkerbayestate.com/
Vaalvlei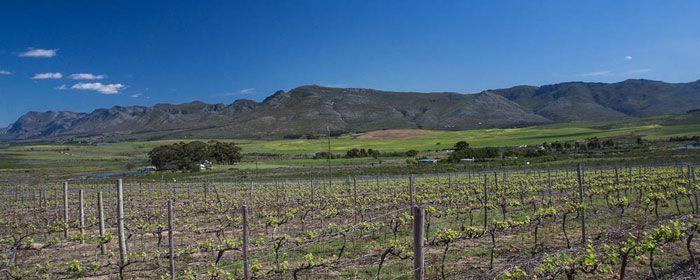 This is the smallest producer on the route with a mere 3 hectares under vines. The farm, established in 2005 belongs to Naas Terblanche, a passionate conservationist and winemaker.
The vines grow on predominantly sandstone and koffieklip soils and comprise only two cultivars, Sauvignon Blanc and Shiraz. Walker Bay, which can be seen from the vineyards, lends a cool maritime climate to the area and making the production of elegant white wines and classical red wines possible.
The Terblanche family is committed to conservation and strive to protect the indigenous plants and birds of the region and in particular the13 frog species that occur in their wetland.
Vaalvlei offers farm cottage accommodation where guests can relax, enjoy the beautiful surroundings and try their hand at a bit of fly fishing.
With his passion for the environment Naas not only opted to choose the endangered Western Leopard Toad for his wine labels but also runs a permanent audio visual display in his tasting room.
http://www.vaalvlei.co.za/
Raka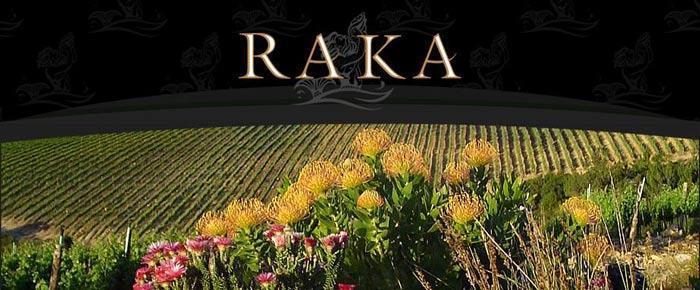 A drive further up the valley on the R362 takes you to this family owned cellar. Owner Piet Dreyer bought the farm Remhoogte in 1982 and in 1999 established the first vineyards. In 2002 he decided to swap the ocean for the wine industry after spending more than three decades in the fishing industry. He named the farm and its wines after his beloved black fishing vessel, Raka.
The farm is situated in a narrow valley in the Klein River Mountains and the vineyards are planted on diverse soils either side of the Klein River that flows through the valley. Plantings include a wide variety of grape cultivars e.g. Cabernet Sauvignon, Cabernet Franc, Malbec, Merlot, Shiraz, Mourvédre, Petit Verdot, Pinotage, Sangiovese and white varieties such as Sauvignon Blanc and Viognier.
Raka is a family run concern with son Joseph taking charge of the cellar, Pieter managing the farm and vineyards, only daughter Jorika looking after the marketing and parents Piet and Elna ever present to entertain visitors with their relics and anecdotes from days of yore.
http://rakawine.co.za/
Boschrivier Wines

Right next door to Raka is Boschrivier Wines, a small family-owned wine farm that actually consists of the two farms Boschkloof and Remhoogte. The farms belong to Dr Theodore (Ficky) de Villiers and lie at the foot of the picturesque Akkedisberg Mountain range with the Klein River running along the edge of the farm. The farms fall into the Klein River Wine Ward which forms part of the Overberg Wine Region. The Bosch River (running along the upper part of the farm) was the inspiration for the label.
In 2001 the first bottle of Boschrivier Shiraz was produced and since then the focus was on producing a boutique Shiraz of exceptional quality. In 2013 three new wines were added to the range: Rosé, Sauvignon Blanc and Cabernet Sauvignon.
http://www.boschrivier.co.za/
Source
Source:
Stanford Wine Route
PO Box 1683
Hermanus 7200
This email address is being protected from spambots. You need JavaScript enabled to view it.
www.stanfordtourism.co.za
@StanfordWineR
https://www.facebook.com/Stanford-Wine-Route
Download STANFORD WINE ROUTE MAP