In 1674
the kraal of Captain Klaas/Dorha is recorded just west of the Bot River. The Hesseque people frequently camped on the banks of the Bot River and watered their cattle. They called the river Gouga, meaning "much butter", which was then translated by the early travellers into Botter and later shortened to Bot. The old Mill in the village of Bot River is the location of the cattle trading post, where VOC obtained cattle from the Khoekhoe.

Above Photo: A Bird's view of Fisherhaven afer 2000 - courtesy Kees van de Coolwijk. - FotoFirst Hermanus
Fisherhaven 1754 - 1931
is a small town in the Western Cape, South Africa on the banks of the Bot River lagoon, about 14 km from Hermanus.
1754 originally part of Afdaks River Farm which is first recorded as a 'loan farm'
1831 Afdaks River was surveyed and granted to a Mr Niemand.
1903 transferred to PS Delport. 1907 transfer to his brother Johannes Jacobus Delport.
1931 the farm was subdivided into four portions : Portion 1 "Rooisand" for Petrus Johannes (eldest son), Portions 2 and 3 for Jacobus Johannes (youngest son) and Portion 4 for Josias Servaas (second son) The land upon which Fisherhaven was later established, was on part of the section received by Josias Servaas.
During World War II (1943-1945)

Photo Above: Catalina flying over the Bot River lagoon - courtesy Kees van de Coolwijk. - FotoFirst Hermanus
The Allied Forces' main supply line between Britain and Europe was via the Cape of Good Hope. In 1943 Britain sent out RAF squadron 262 with Catalina flying boats.
The main operating base was in Durban with subsidiaries at Langebaan and St Lucia. The Botriver lagoon was established as an emergency base for the landing and refuelling of Catalina flying boats. It was occasionally used as an advanced operating base. It was an essential link in the patrol, and when major convoys passed a number of planes would be stationed there. Landing ramps were built on the site of the present Lake Marina Boat Club in Fisherhaven. Other facilities included a slipway, workshops and stores.
The base was in full operation until February 1945, when both the RAF squadron 262 and SA squadron 35 were transferred to Britain.
Fisherhaven: 1950 - 1968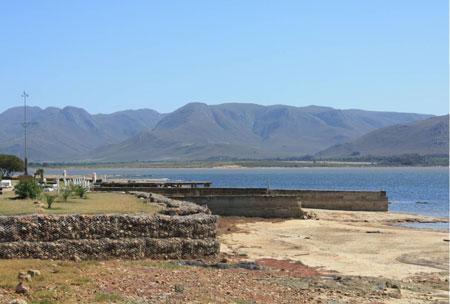 Photo Left: WWII Catalina Flying Boat Base Marina Yacht Club. Situated on the site of the present Marina Yacht Club. No physical fabric remains today. The present site consists of a landing ramp, slipway, workshops and stores
Fisherhaven arose as a farm which was bought by the Walker Bay Investment Company. Around 1953-1954 they negotiated with the Caledon Divisional Council for a new township which they called 'Fisherhaven'. Walker Bay Development Company did not, however, get full title until 1959. This delay was caused by a mandatory Outspan for transport wagons which was omitted in the 1831 grant of the farm 'Afdak's River. In 1959 it was subdivided into 758 plots.
1965 - the old outspan on the property was rented by Lee Burman and her husband, Mr Robertson, to run a caravan park. The camp, known as Robertson Crusoe was rather primitive, but popular by nature and bird lovers
Walker Bay Development Company was liquidated in 1967 and scheme bought by Lake Marina Properties. The name changed briefly from Fisherhaven to Lake Marina and all the plots sold in 1968. The Lake Marina name did not last too long. As all the title deeds were in the original name of Fisherhaven, residents protested, and it was decided to drop the name "Lake Marina" and reinstate the name "Fisherhaven".

Above Photo: A Bird's view of Fisherhaven Slip (Jetty) - courtesy Kees van de Coolwijk. - FotoFirst Hermanus
Lake Marina 1968 - 1980's
bought the property including the township for the sum of R30 000, and under the name of "Lake Marina" set out with great enthusiasm to revive interest. They built a jetty, a slipway, and a boathouse.
A landing strip was laid out on the Commonage and a golf course was proposed together with other schemes which sought to implement the original concept. These all appear on a large, colourful map handed out by Clive Smith Estates (Pty) Ltd in 1968 but none of the projects was ever to materialise.

In 1974, newspapers carried stories of a multi-million rand development at Fisherhaven.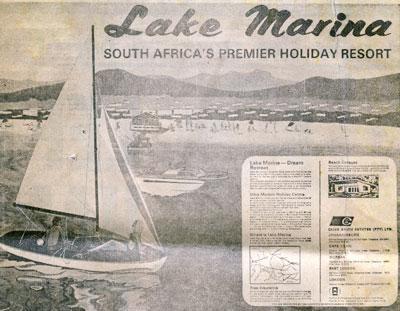 Lake Marine offered a Modern Holiday Centre
A landing strip was laid out, a modern yacht club is planned together with the building of a large jetty for boating and fishing.
Photo: Weekend Argus 1974 - Click on the image to your left to enlarge:
Idyllic Lake Marine offers you:
Beautfull sun swept beaches - Bathing and ski-ing on the lake - 9 Hole golf course and more promises was made..
All of this appear on a large brochure as seen on this old newspaper clipping on your left. Click on the image to enlarge. Mr Bill Mitchell, Director of Lake Marina Properties, suffered failure of other interests and later died.. Residents who love their tranquil village were certainly happy that nothing came of these grandiose plans.
Building of mainly holiday houses by those charmed by the beauty and rural peace continued slowly, boosted by the extension of the electricity supply to the whole town in the 1980s. There were, however, only 40 permanent residents by 1990.
Fisherhaven 1990's - 2016
Today Fisherhaven is a nature lover's paradise with an abundance of birdlife, indigenous fauna and flora – over 120 bird species in the surrounding area. Popular water sport holiday destination including waterski, powerboating, wakeboarding, kiteboarding, windsurfing, kayaking, sailing and fishing.

A herd of wild horses are known to roam free in the marshlands, next to the Rooisand Nature Reserve. They are believed to be South Africa's only herd of wild horses in a wetland habitat.