Close to Hermanus, the town of Hawston with its long, white unspoilt beach lies cosily between the sea and the mountain. It is thought that long ago the Quena (Khoi-Khoi) grazed their cattle in the area.
HAWSTON AND IT'S ORIGIN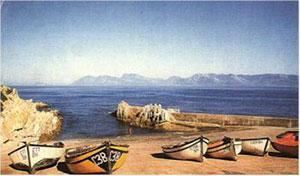 Before 1830, people lived at Herrie's Bay and at neighbouring Middelvlei.
Hawston was founded by Samson Gabriel Dyer 1859. It was named after Charles Haw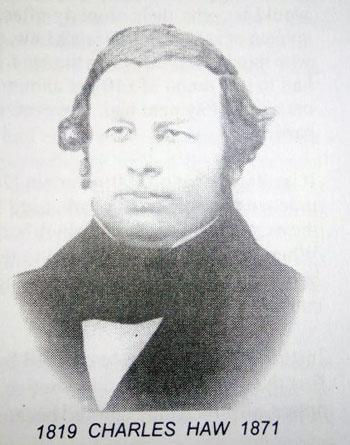 and known as Haw's town. This historical fishing village has many stories to tell, one of whom is the abalone one. It was refuge and home to many from Ireland, Germany, France, Holland, USA, Sweden and England.
The major part of the town was laid out in 1860 and named Hawston, after commissioner Charles Haw of Caledon.
Image of Charles Haw courtesy - from the book "Tussen Berg en See" - Doris Maree, Ladys Gillion and Pamela February.
Samson Dyer, an American Negro settled on an island near Gansbaai where he gathered seal skins. The island was later named after him and today Dyer Island is known world wide for shark viewing and diving.
In 1840 Samson yielded his right to the island to the Government in exchange for four morgen of land at Middelvlei. He had the land divided into plots, sold it and it became part of Hawston. Despite some housing problems during the early years, Hawston gradually expanded and developed. A housing scheme was established and during the 1990s, a self-built scheme followed. The small fishing hamlet became a beautiful town.
Pale Huise (Pole Houses) of Hawston
Walton (1995) describes in his book "Cape Cottages" the fishermen's dwellings of the south coast as being typically constructed of stone and clustered around the harbours. He notes that very few of these dwellings survive, although associated slipways, cleaning tables and drying racks may still be seen in some of the harbours. Such structures still remain at Hawston harbour. However, traditional use of the harbour has now been officially declared "off limits" due to controls against poaching and the re-issuing of commercial and recreational fishing permits.
According to Walton (1995) the village of Hawston has its own characteristic type of cottage, known locally as the palehuis (pale house) which is of a unique construction. The palehuis was constructed of a framework of poles with spaces between the upright poles filled with sparretjies held in position by horizontal laths or split poles, and the walls in some cases plastered with clay. The palehuis was similar in construction to the reed-walled cottages of the west coast.
In 1963 Fransen (In Fransen 2006) recorded some of the last remaining palehuise in Hawston (see images below). In 1994 Pretorious (In Walton 1995) also recorded some of the last palehuise in Hawston (see images below). Walton (2005) noted that in most cases the sparretjie walls of the remaining palehuise had been plastered with cement and the thatch replaced with corrugated iron. Only one known example of a palehuis remains today, now in a dilapidated condition with one collapsed end wall.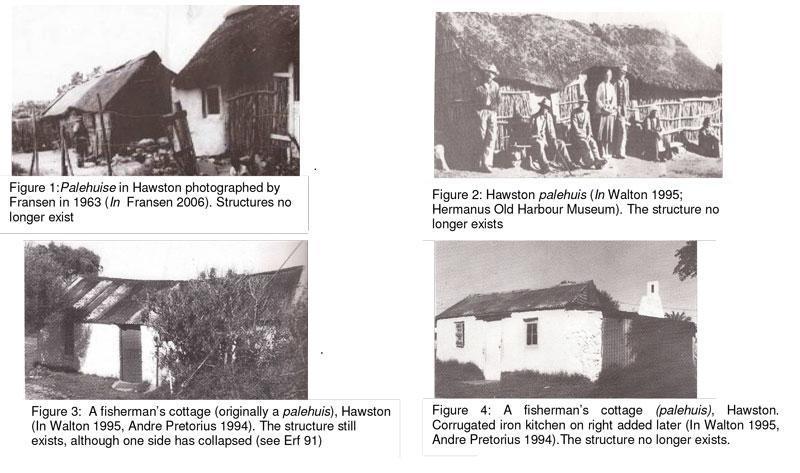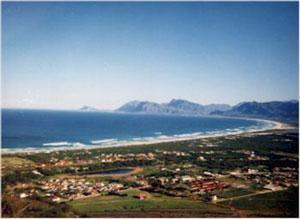 When the abalone industry took off during World War II, the fishermen of Hawston swopped their fishing activities for abalone diving. The Hawston harbour, from where the boats are launched, was built right next to Herrie's Bay. Many people of Hawston work in Hermanus and other nearby towns where they make up a substantial part of the building industry and in other work places. By that time there were many people living in Hawston. There was an outspan for fishermen and lime-burners, who collected shells and burnt them to produce lime. Many shipwrecked persons settled there as well. Some of their descendants still live in Hawston.
Hawston boasts a large number of churches. There is a primary and a high school which are also attended by children from neighbouring towns. The older residents remember the fun gatherings at Die Kraal, where the library stands today, where bazaars were held and fishmongers and vegetable farmers sold their produce. It is thought that Die Kraal originates from a Quena kraal in days gone by.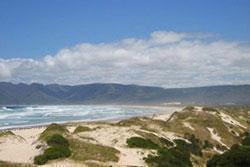 Today:
What to do and see in Hawston:
The Blue flag Beach Hawston is tucked away in the little town of Hawston on the coast as one drives towards the town of Hermanus . A truly beautiful beach with views of the sweeping mountains along the Cape coastline and along the extensive dune system which stretches from the beach along the coast for some distance. Hawston beach has some of the safest swimming water in the sea along the Western Cape coastline. Treat the sensitive dune systems with care and walk along the designated board-walk systems only.