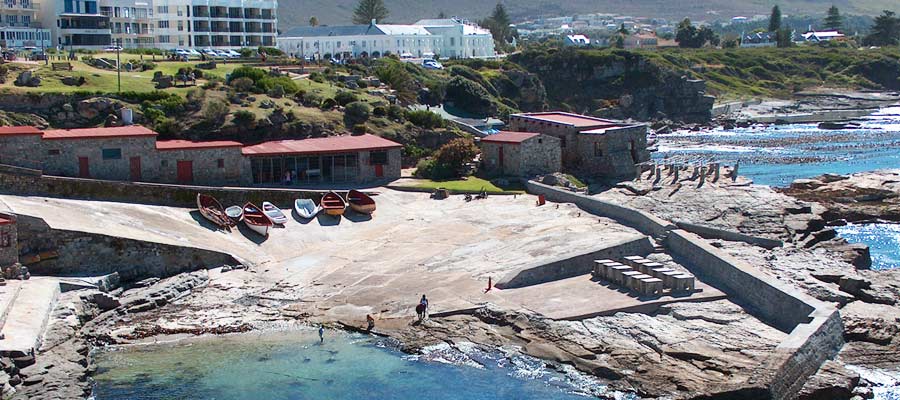 Nestled between lush green mountains and the turquoise ocean close to the southern tip of Africa lies the magnificent village of Hermanus. This is the wine and whales heartland of the beautiful Cape, home to migrating Southern Right Whales and where splendid wines are grown. Here breath-taking scenery, warm hospitality, world class whale watching and the finest wines all combine to create lasting memories.
Spectacular vineyards cover the mountain slopes of the Hemel-n-Aarde valley where local winemakers take pride in in their ability to recreate South Africa's tradition in every drop, while also offering an entirely unique experience. This picturesque village of friendly, welcoming people is centered around the rich history of a fishing community and the gentle giants of the ocean.
On the waterfront, hugging the bay, you will find wonderful crafts, art galleries and antique shops. The main street is lined with coffee shops and restaurants. Acclaimed chefs create everything from world-class cuisine to light meals using the freshest catch of the sea complemented by the wonderful local wines. Linger a while and savor the hospitality, ambience and variety of our many great restaurants. From this vantage point you will be enchanted by the characteristic frolicking of the whales.
View: Photo Galleries of Hermanus

HISTORICAL AND CULTURAL HERITAGE OF HERMANUS
This picturesque seaside town has a proud history dating back to the early 1800's when a man named Hermanus Pieters followed a path etched into the ground by a herd of elephants. Hermanus Pieters was a travelling teacher and shepherd who, growing tired of his locality, decided to pack up and explore somewhere new. He wandered south of his home village, Caledon, followed the elephant trail and ended up next to the sea. Here he discovered a fresh spring and good grazing for his livestock and thus decided to set up camp. The beautiful settlement became known as Hermanuspietersfontein.
This heritage lives on today with the original homesteads proudly scattered throughout of the village. Museums chronicle the history of those brave pioneers each having its own fascinating story to tell.
Read more: Hermanus and it's History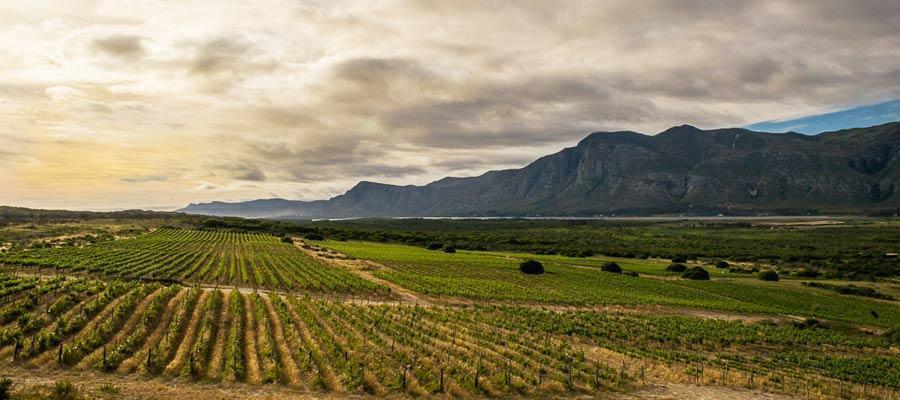 WONDERFUL WINES
Meandering on the wine route through the Hemel-n-Aarde Valley you will notice that some of the farms bear French names and are usually complete with a spectacular cellar and restaurant luscious vineyards. There are a variety of cellars, from small boutique wineries that cater for those in search of something unique to large cellars that offer organized tours and conducted tastings.
Wine Articles: 8 Wine farms and wineries along the Stanford Wine Route
SHOPS AND GALLERIES
A host of shops and galleries line the Main Street, providing a wonderful choice of antiques, a world class collection of artworks and interesting bric-a-brac to browse through. There are also specialty shops such as rare and collectable secondhand book shops, themed junktiques, a sixties cinema, antiques shops, a hundred and one things more…

THINGS TO DO
Take a boat-trip to view the Whales of Walker Bay where it is possible to encounter Dolphins, Great White Sharks, Southern Right Whale, Bryde's Whales, Humpback Whales as well as many types of sea birds, including the endangered African Penguin and Oyster Catcher. Explore the biodiversity of the walking trails in the surrounding mountains on foot, cycling or horse-riding.
For the more energetic there are numerous adventure on water, in the air and on land.
More Activity Articles: