Being very seasonal this wonderful vegetable is much under rated and sometimes almost forgotten. C. Louis Leipoldt with his wisdom of the Cape Floral kingdom has preserved this iconic dish till this day - there are few recipes more true to Cape Cookery than a hearty waterblommetjie bredie.
But fortunately, waterblommetjies – or Aponogeton Distachyos – had a well-deserved revival with commercial cultivation and especially in the Wellington area. Choose well developed blommetjies when buying. They should be dark green with a blush of pink on the tips - fully developed but not hard and woody. Preparation of them for a bredie requires a very good wash in cold water, just to get rid of anything slimey or insects that could be stuck to them.
Cooking time is slightly longer than that of green beans, and they should be really tender before serving. Knowing them mainly as an ingredient for a perfect bredie, they also make an excellent soup quite the same as broccoli soup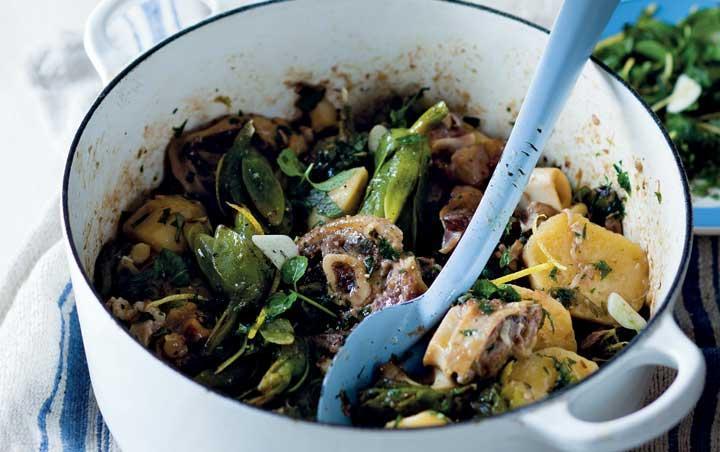 Ingredients:
1.5 kg lamb ( rib cutlets with a fair amount of fat are excellent)
Halve a beef stock cube dissolved in 500 ml water and 500 ml dry white wine
4 onions cut into slices
Juice of one lemon
2 to 3 sprigs fresh rosemary
Salt and pepper to taste
0.75kg small potatoes
Salt and freshly ground black pepper to taste
Method:
Heat a pan and over medium heat, sauté the onions till translucent and golden brown and remove from the pan;
Sear the meat in the same pan till light to medium brown. Add the stock, salt and pepper and cook for at least one to
two hours till tender;
Wash the potatoes and rosemary and add it to the meat and onions;
Clean the waterblommetjies very well under running water and add to the bredie;
Add one finely grated whole nutmeg;
Cook quite quickly for 20 minutes or longer until potatoes are just tender;
If the sauce is too watery, thicken it with a paste of flour mixed with water, milk or cream as preferred.
This traditional dish is served with rice and very often a sweet dish like sweet potatoes.