Market in the Garden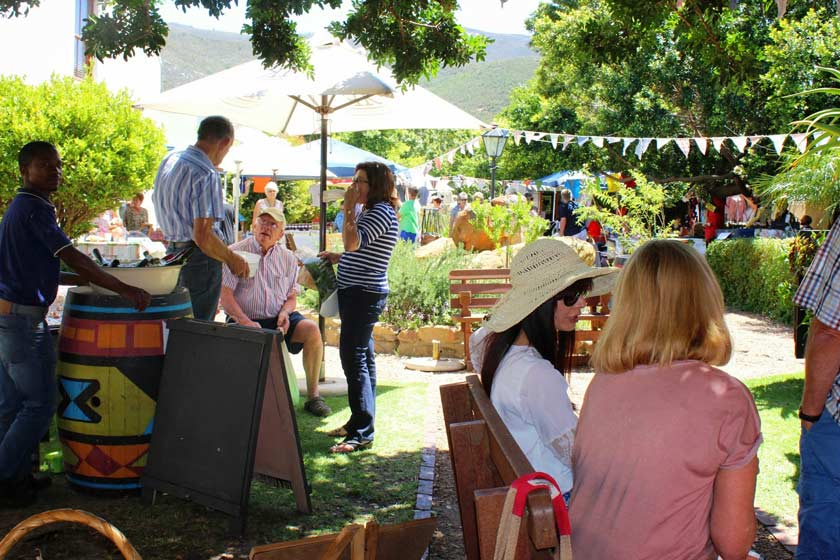 When: Every Saturday Morning:

Time: 09:00 - 14:00

Where: takes place at The St. Peters Church Garden in Hermanus
and offers new flavour experiences from deliciously different breakfast omelettes to home-made boerewors. There are plenty of home craft and oddball collections, which may just capture your fancy and trigger the realization that you have stumbled on that "once in a lifetime deal" Enjoy some delicious breakfast or lunch, spoil yourself to some delicious goodies including wheat free treats, and browse a wide variety of colourful and creative arts and crafts.
The Hermanus Country Market
When: Every Saturday Morning

Time: 08:00 - 13:00

Where: at the Cricket Club in Hermanus.
"The most special thing about this market is that you're buying fresh, wholesome and good food, direct from the source," says market organiser, Lize van Koppenhagen. Browse homemade delicacies: artisan breads, probiotic yoghurts, hand-made cheeses and home-smoked fish. You can also find indigenous plants and succulents.
The Hermanus Country Market is the perfect place for families to spend a Saturday morning and boast a jungle gym, sandpit and play area and sometimes ponierides for the kiddies of all ages can have fun, while their parents are sampling all the market delights. This is really a "must do" market
Hermanuspietersfontein Food and Wine Market
When: Every Saturday Morning

Time: 09:00 - 13:00

Where: the Food and Wine Market is hosted at the Hermanuspietersfontein wine cellar. 

Come and browse the many food and drink tables. Wine tasting is for free, and there really is something for everyone. The food & Wine market has become a meeting place for friends and families, where they came to enjoy breakfast or lunch, enjoy a glass of wine or just relax and enjoy the entertainment. It's a child-save environment which is dog friendly and strictly agains plastic packaging. Wine tasting is free!
Onrust Market
When: first Saturday of every month

Time: 09:00 - 13:00

Where: De Wet Saal - on the grass
Agains the magnificent backdrop of the Onrus Mountain and a hop and a skip from the Onrus caravan park and the ocean, the De Wet Hall on Roos street makes a perfect venue for the get-together of locals and visitors on the first Saturday of every month
"Onrus Markie" distinguishes itself from other local events by the warmth of the greetings and the lively chatter of happy people. You are likely to meet many interesting and friendly locals who go regulary, catchin up with their friend and tel some amazing and interesting stories of this area.
The bonus is that there are so many wonderfull things to choose from, ranging from freshly baked pancakes to the many home-baked cakes and home-made food as take-aways. And then there are the home-crafters who offer their unique specialities for sale.