Cruising for about an hour on the Canal with the Swan of Brisan, was one of our greatest experiences while visiting St Francis on our recent road trip. The upmarket black and white homes lining the waterways.

Treat yourself on the Swan of Brisan and enjoy the tranquility and beauty of the canals with the abundant birdlife and view some of the incredible houses on display.
Our guide told us that all the houses are white walled and black roofed (some thatch roofs). This was the building style insisted by Hulett, the man who first own the farm on which St Francis was developed.
On our trip we noticed a number houses being repaired. In 2012 a devestation fire destroyed 76 houses along the canal, he told us. A sad time for the family and friends on the canal.
As the sun start to go down, the view was spectacular.
A bit of information from the (http://www.brisan.co.za/) Website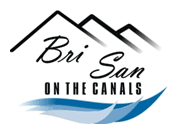 St Francis Bay Canal and Kromme River Cruises are the highlight of most visitors to St Francis Bay and can be booked through Brisan B&B on the Canals. Both Brian and Sandy have 'Skippers Tickets' and have been cruising the St Francis Bay canals and Kromme river for many years. Our pontoon boat, The Swan of Brisan, is equipped with a gas griller and full gas stove in order to prepare delicious meals or light refreshments while cruising the St Francis Bay Canals. As one American journalist wrote and said "Your B&B is lovely, and the experience of having breakfast out on the water in the morning was definitely a highlight of our trip." The sights and sounds which abound will prove to be just that.
Our second pontoon boat has a roof plus awnings which can be closed in order to cruise in all weathers. Whether you take a shorter canal cruise or one encompassing the canals and the Kromme River, it will be an unforgettable experience. This boat is available for hire providing a valid Skipper's Licence is produced.