Marmaduke Thomas St John Pattle the top scoring Commonwealth pilot with an estimated score in excess of 51 Axis aircraft was born in Butterworth, South Africa.
of English parents, where he grew up with a rifle in his hands, becoming a "crack shot," a skill which was to serve him well in the cockpit of a fighter plane

Because he could not speak Afrikaans, the SAAF rejected him so he joined the RAF in flying obsolete Gloster Gladiators against the Italians, claiming four victories and a probable, although he was shot down himself on August 4 1940. He soon returned to the fray.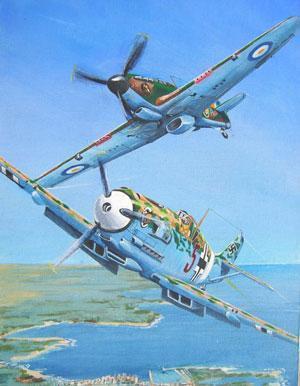 The Squadron then moved to Greece, whereby the end of the year he had claimed 10 more victories and shared 2 others. During February 1941 the unit received some Hurricanes, to replace the antiquated Gladiator biplanes. And he increased his score from 10 to 24.With this superior fighter he claimed 2 Fiat BR 20 bombers and Fiat CR 42 fighters plus a probable on 28 February plus three Fiat G 50 fighters on 4 March to bring his score to 24.
He was given command of 33 Squadron. In 1941, also flying Hurricanes. He received a Bar to his DFC which he had been awarded late in 1940. At the head of 33 Squadron he led an attack on an Italian airfield in Albania on March 23 claiming a G50 and one probable in the air, and 3 on the ground.
On April 6, 1941 Germany entered the Balkan War, and on the first day of hostilities, he shot down two Bf 109 Es of 111/Jg 27 over the Rupel Pass. Thereafter details of his score as all records were destroyed became unclear. According to a diary kept by one of his ground crew he claimed 8 more victories by 12 April and destroyed 2 Messerschmitt Bf 109s on the ground. He Claimed five in a day (one Italian and for Germans) on April 14, and 6 on the 19 April. By 12 April his score had increased to 18, all German aircraft.
On 20 April when suffering with fever and a high temperature he led the surviving fighters up over Athens to intercept a heavy raid, against superior numbers, of German fighters and bombers, over Eleussis Bay. Here he succeeded in shooting down 2 Messerschmitt 110s and a Messerschmitt Bf 109, before being shot down and killed by a Me 110. As he went to the aid of another Hurricane.
Because the Squadron's records had been lost, his tally was not known. If all the claims made for him, his total would have been in excess of 51 however he was credited officially with a score of 40, still making him the highest scoring pilot in the RAF
When one realises these victories were scored in less than nine months of active warfare-almost half of them flying an obsolete biplane fighter- only then can one realise the greatness of this magnificent achievement, and wonder why this courageous, skilful and devoted South African pilot was only awarded a distinguished Flying cross and bar.
The paintings shows him downing a Messerschmitt Bf 109 in his Hawker Hurricane Mk II and a Fiat in his Gloster Gladiator.
Paintings: Derric Dickens
Source
Story and Paintings: Derric Dickens
wikipedia