On the 11th of November, 1918 the guns on the Western Front fell silent, after more than four years of continuous warfare during the First World War.
Remembrance Day is held on the 11th of November each year, or on the second Sunday in November, usually nearest to the 11th. Previously known as Armistice Day, it was changed to Remembrance Day, after the Second World War. On this day, people from around the world remember those who made the ultimate sacrifice during the two world wars and other conflicts. The names of those from the Hermanus area who died in the two World Wars, as well as the South African Border War, appear on the cenotaph.
Services are held at war memorials, cenotaphs and churches around the world, when wreaths and flowers are laid by relatives, representatives of government, the military, the police, veterans associations, schools and members of the public, remembering those who paid the ultimate price.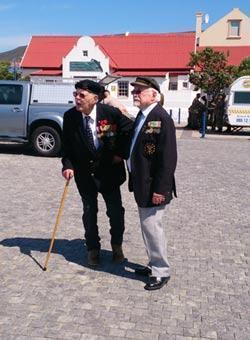 A special moment was when Bill van Niekerk, the 91 year old Second World War veteran of the Desert campaign, laid a wreath at the memorial. All the while, the military band played in the background, the guard of honour stood at ease, the South African flag waving in the wind.

Remembrance Day, 2013 in Hermanus, was held at the cenotaph, overlooking Walker Bay, on a perfect day, with clouds slowly sailing by as the sun shone down on us.
The main speaker at the occasion, was Harvey Saayman, the Old Bill of the local MOTH (Memorable Order of Tin Hats) Shell Hole. As he read the fourth stanza from the poem 'For the Fallen' by Laurence Binyon, tears welled up in many an eye. '..At the going down of the sun and in the morning, we will remember them'.
Remembrance Day in Hermanus, has been held for the past 80 years.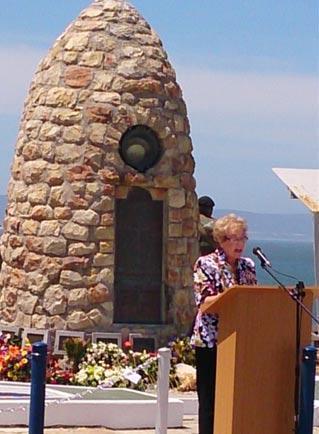 The Mayor, Clr Nicolette Botha-Guthrie, addressed the audience, and stressed the importance of remembering those who made the ultimate sacrifice. Her reading of John McCrae's poem, In Flanders Field, conveyed the feelings of the writer after a close friend had lost his life in that conflict.
As we left the village square, our thoughts were with those who gave all and 'we will remember them'.
Source
Story Written: Frank Halforty
Speeches: The Mayor, Clr Nicolette Botha-Guthrie; Mr. Harvey Saayman, the Old Bill of the local MOTH
Photos: © Jaydee Media