Grotto Beach is a Blue Flag Beach in Hermanus. This beach is excellent for swimming, sun bathing, romantic walks, games and well suited to kids. It also offers excellent facilities in the form of a restaurant and well maintained ablution facilities.
A favourite with locals and tourists alike, endless stretch of white sand also makes it an excellent location to take the dogs for a walk, something which many a pet owner can be seen taking advantage of. If you are feeling particularly energetic, take the +/- 18 km walk from Grotto Beach all along the coastline to nearby De Kelders. The views are outstanding and in season you will in all likelihood spot a few whales.
Voëlklip Beach: Sheltered from the wind & popular with surfers.
One of our older and very popular beaches is Voëlklip Beach, at the lower end of Seventh Avenue in Voëlklip. It has grass terraces, ideal for sunbathing and picnics without the sand. There are a number of benches providing the perfect place for whale watching. There are clean amenities and ample parking.
Near the beach lies the large rock where thousands of birds sleep for which Voëlklip was named (Voëlklip = bird rock). The beach, surrounded by rocky cliffs, is not very big, but with the extensive grassy slopes make it a very popular meeting place for families and especially with small children.
Kammabaai,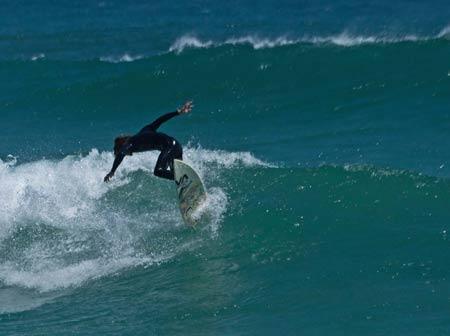 in earlier years it was known as Nanny's Beach, has great waves for surfing, with picnic and braai areas.
The name Kammabaai was given to the little beach by two children, about 40 years ago. It was previously known as Nanny's Beach.
"Nanny's Beach" referred to a time when child minders brought their charges to swim, but as the nannies themselves were not allowed to swim there, they often "accidentally" splashed in the sea with their clothes. The workers of the Birkenhead Hotel regularly swam there when off duty in the 1960s.
Langbaai is Hermanus' 'secret beach' and offers a private bathing area beneath the cliffs. Walking down Fourth Avenue in Voëlklip, a footpath going down the cliff underneath milkwood trees, leads to the pretty, secluded Langbaai (long bay) which is really not long at all. Residents and holiday makers in that vicinity swim and suntan at this protected little beach.
Sandbaai beach has a variety of rock pools with fascinating marine life. It is popular at low tide for swimming and snorkelling.
Onrus Beach: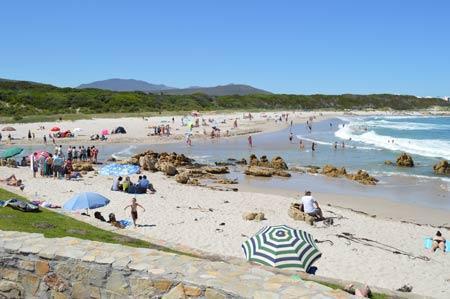 The crescent shaped beach at Onrus is one of the most popular far both young and old. Surfers and body boarders share the waves but the strong currents make it treacherous for swimmers. The tranquil lagoon that opens to the sea after heavy rains compensates for this. Facilities include cloakrooms with showers and a restaurant that overlooks the lagoon, white beaches and the beautiful blue bay beyond.
Brêkvis Bay: The beach at Vermont lies beyond the Vermont dunes on the boundary of the Vermont Nature Reserve. It is a good spot for picnics and perhaps the name was coined by people who had their brêkvis (a colloquial word for breakfast) on this beach. Right next door is another pretty beach called Twistbaai.
Hawston beach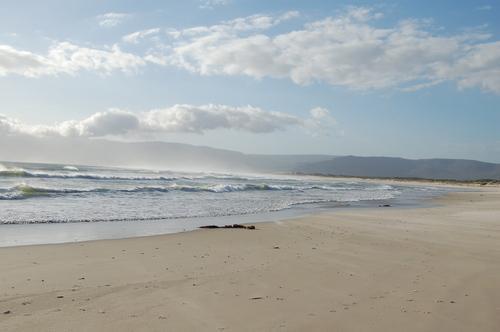 is a pristine white beach stretching all the way to Kleimond. It is however not recommended for swimming as the currents are treacherous. The area near the Hawston harbour is a favourite surfing spot for youngsters. Walking this stretch of Hawston's beach, with forays into the dunes to view the Bot River lagoon behind them, is beautiful and may give walkers a chance of spotting the elusive 'wild' horses of Kleinrnond and their magic.