Along Routete 326 is Klein River Cheese Farm where you can sample the various cheeses made here.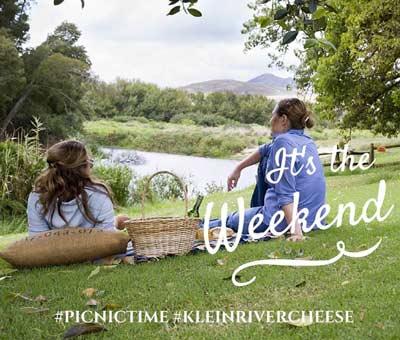 Picnics are available to enjoy on the riverbank while children will love the petting zoo and playground
Klein River Cheese farm just outside Hermanus near Stanford lies on the banks of the Klein River, surrounded by lush green hills and mountains. A small family run cheesery, promising a range of exceptional and high quality, South African cheeses.
The farm offers a superb location for visitors who can taste and purchase cheese and enjoy a scrumptious picnic on the banks of the Klein River while the children can enjoy the extensive playground or pet and feed the many farm animals.
PICNICS at Klein River Cheese

Picnic season at Klein River Farmstead is from October till May. Picnics are available from 10.00 to 15.00 daily. You can enjoy one of our delicious gourmet picnic lunches or create your own picnic from the new Picnic Deli. Picnics can be enjoyed on the banks of the tranquil Klein River; under the trees on the extensive lawns; or on the veranda of the beautifully renovated Picnic Shed. Klein River Farmstead is situated on the R326 (7 km outside Stanford). Stanford is a picturesque village just 15 minutes drive away from Hermanus and Gaansbaai.
To view the menu, click on this link
Classic French Picnic Menu
Country Vegetarian Platter Menu
Klein River Kids Picnic Menu
Klein River Wine List